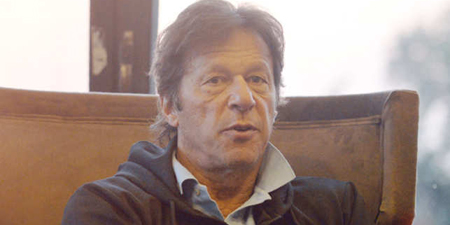 JournalismPakistan.com January 18, 2019


ISLAMABAD - Prime Minister Imran Khan's sartorial choices continue to vex some journalists.
Mariana Baabar thinks it's none of her business, but the prime minister needs to pay attention to his dress and hair. "None of my business at all. With great respect maybe comb hair well, bit of gel or whatever to get a clean neat look. My prime minister should not look as if..But he is his own master," she tweeted.
Therefore she wants the prime minister to wear "warm waistcoat or normal coat" with shalwar kameez.
She was commenting on a tweet by Haroun Rashid, a retired businessman, who thinks receiving official visitors in a leather jacket is inappropriate. "Call me old fashioned or an old fuddy-duddy, but in my book it is inappropriate for the PM to be receiving official visitors in a leather bomber jacket. If the universal suit/tie is out, then our local dress requires an achkan on top not a variety of western casual wear!"
Mariana Babar wants the prime minister to follow the example his Indian counterpart to look neat and clean. "Also look how well turned out Modi is. Not a hair out of place, well laundered but simple clothes. Much older but looks fresh."
Former Dawn Editor Abbas Nasir, on the other hand, sees some improvement in the dressing code of Imran Khan. Replying to Haroun, he said: "Sir, one has to be grateful for small mercies. There are endless pix of him receiving people at Bani Gala in a tracksuit. Now, what could anyone of us do if he decided to wear that on the PM's university campus too."