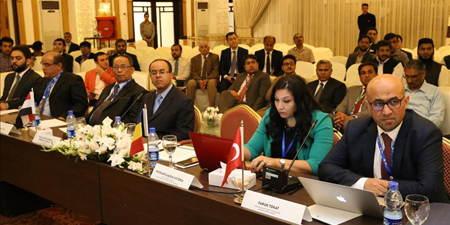 JournalismPakistan.com May 13, 2018


ISLAMABAD - The International Conference of News Agencies (ICNA) would help identify the technical and professional areas for strengthening collaboration, and chalk out a strategy to face the challenges in the world of digital media, Managing Director APP, Masood Malik said on Sunday.
Federal Minister for Information, and Broadcasting Marriyum Aurangzeb and Advisor to Prime Minister on National Security retired Lt. Gen. Naseer Khan Janjua inaugurated the conference.
Addressing the inaugural session of the two-day conference, Malik said it would help promote people-to-people contacts, portray a holistic picture of success stories of a peaceful Pakistan and provide the participants with an opportunity to exchange views on news dissemination.
The Associated Press of Pakistan (APP) is organizing the conference under the theme "Pakistan Media - Challenges and Opportunities" with a specific focus on the role of news agencies in the changing world. The event has delegates from 18 countries.
Welcoming the delegates, Malik said the conference would help forge media cooperation in diverse forms.
The journalists especially attached with news agencies could play a proactive role in bringing the people of different countries and regions closer to one another by dissemination of information on culture, economic and political systems.
"We are sure that they can help create people-to-people contacts, and foster bilateral relations and tourism, besides opening new avenues of economic and social development."
He said the participants would have an opportunity to learn about Pakistan, its social, economic and political life, and its ongoing war against terrorism and extremism.
Briefing the participants about the APP's working, he said the APP had news exchange agreements with 40 foreign news agencies, besides it was considering to ink memorandums of understanding (MoU) with 17 others.
The APP, he said, was a premier news agency with countrywide network and foreign correspondents and stingers in Beijing, London, Washington, New York, New Delhi, Brussels and Jeddah.
He said the APP had added Digital Satellite News Gathering (DSNG) system, earth station and the latest editing equipment for beaming live coverage of important events, besides the test run of APP Web TV.
The APP, he said, took the lead in published news items in national dailies in English, Urdu, Sindhi, Pashto, Saraiki and Balochi languages as compared to its contemporaries in the country.
Its website services, monitoring and feature sections and photo and social media sections were also equally vibrant contributors, he added.
He said the plans included launch of news services in Kashmiri, Chinese and Persian languages, Digital News Display Screens, training services, media education facilities and expansion of news exchange agreements. - APP/Photo courtesy: www.aa.com.tr