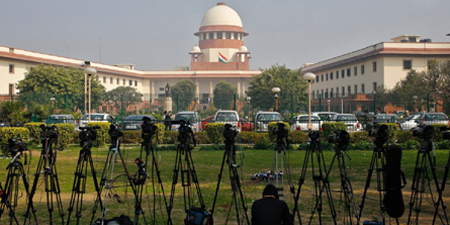 JournalismPakistan.com December 11, 2020


NEW DELHI—The Committee to Protect Journalists has expressed alarm over a petition to the Indian Supreme Court calling for it to initiate criminal contempt proceedings against political cartoonist Rachita Taneja for her comics about the judiciary.
On December 5, Aditya Kashyap, a law student and member of the student union associated with the ruling Bharatiya Janata Party (BJP), filed a petition with the Supreme Court alleging that Taneja's comics have "threatened the very existence of the Supreme Court," according to news reports.
"India purportedly values freedom of speech, but contempt proceedings against Rachita Taneja for her cartoons would instead show intolerance for any form of criticism in the country," said Aliya Iftikhar, CPJ's senior Asia researcher. "If these contempt proceedings move forward, it will send a chilling message to the media."
According to reports, Kashyap's complaint cites three of Taneja's illustrations, one of which depicted Prime Minister Narendra Modi in a transaction with former Chief Justice Rajan Gogoi, and the other two which commented on legal proceedings against journalist Arnab Goswami. According to CPJ's review, Taneja posted the illustrations on her Twitter page @sanitarypanels, which counts around 22,500 followers, on August 7, November 11, and November 12.
Kashyap filed his petition after India's attorney general K.K. Venogupal formally admitted it on December 1 on the basis of the law student's initial complaint that Taneja's art dishonored India's highest court, according to Indian legal news outlet Bar and Bench. According to Indian law, the attorney general needs to approve criminal contempt proceedings initiated by anyone other than the attorney general or the court.
In his official letter to Kashyap admitting the petition, Venugopal said that Taneja's illustrations imply that the "Supreme Court of India is biased towards the ruling political party," according to reports.
The court has not yet set a date for a hearing to determine whether it will admit the petition. If it does admit the petition, Taneja will be served a notice and will be allowed to present her defense. If found guilty of contempt of court, she could face up to six months imprisonment or a fine of 2,000 rupees (US$30) or both, under Indian federal law.
Reached via messaging app, Kashyap declined to speak with CPJ, saying that he is "a bit occupied currently due to exams and all." He told New Indian Express that Taneja "has every right to criticize the judiciary and the government, but she must not cross a line. She has the capability to influence a lot of young people and she has to be accountable."
Venugopal's office did not return CPJ's phone call.— A CPJ News Alert/Photo: Reuters