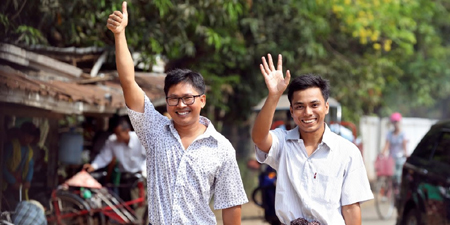 JournalismPakistan.com May 07, 2019


The International Federation of Journalists (IFJ) and its affiliate the Myanmar Journalists Association (MJA) have welcomed the release of Reuters journalists Wa Lone and Kyaw Soe Oo after more than 500 days in jail following a presidential pardon on May 7.
The IFJ called on the Myanmar government to end the crackdown on press freedom in Myanmar.
Wa Lone and Kyaw Soe Oo were released from Insein prison in Yangon on Tuesday following a presidential pardon granted to 6,520 prisoners. Their release comes over 511 days after they were detained by Myanmar authorities as they were investigating a September 2017 massacre of 10 Rohingya Muslims in conflict-hit Rakhine state, where the Myanmar army forced some 740,000 of the stateless minority to flee over the border to Bangladesh.
On April 23 their final appeal in the Supreme Court was rejected.
Together with the Reuters colleagues, Wa Lone and Kyaw Soe Oo were awarded the Pulitzer Prize - one of the most prestigious awards for journalism - in international reporting category in April 2019.
The Myanmar Journalists Association, in its statement, said that they happily welcome the release of Reuters journalists.
The IFJ said: "We welcome the release of Wa Lone and Kyaw Soe Oo, reaffirming our position that they should never have been charged or detained. Journalism is not a crime and the two journalists should never have been targeted. This release is a positive step in efforts to support and foster press freedom in Myanmar. We urge the Myanmar Government to immediately drop all outstanding charges against journalists and the media, an issue that continues to hinder media freedom, instead creating a culture of fear and intimidation." – IFJ media release/Photo: AFP