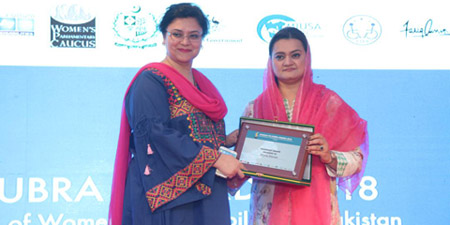 JournalismPakistan.com March 21, 2018


ISLAMABAD – The News journalist Myra Imran (pictured, left) was presented the Khadija Tul Kubra Award Tuesday for her extensive reporting on women with disabilities.
The first-ever awards ceremony held here celebrated the contributions of women with disabilities and those instrumental in supporting such women and their struggle for rights.
The Women Parliamentary Caucus (WPC) and Special Talent Exchange Program (STEP) organized the event.
Myra who is also a vice president of National Press Club, Islamabad, said that she reported on women with disabilities as a cause. "We have too much of political reporting in Pakistan, and we as journalists tend to ignore social issues and subjects that are even more important."
"Although I am delighted to have received the award, I think my contribution is just a drop in the ocean. We all need to do more."
Myra has previously won several awards including the Benazir Women in Leadership Award and the Media Woman of the Year Award in 2010, and Child Sensitive Media Reporting Award in 2017.