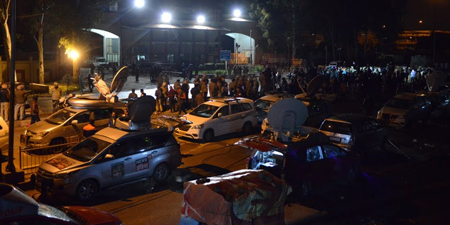 JournalismPakistan.com March 06, 2019


For the past two weeks, the governor's administration of Jammu and Kashmir has not given any government advertisements to Greater Kashmir and Kashmir Reader.
The International Federation of Journalists (IFJ) and its affiliate the Indian Journalists Union (IJU) have strongly criticized the moved by the J&K administration, withholding important funding for the local media outlets.
According to the Kashmir Editor's Guild, the administration had not given any government advertisements since February 16, 2019, to either outlet. Greater Kashmir is the most widely read English paper in the region.
The Editor's Guild said that neither outlet had received any communication from the administration, and said that actions such as these 'strangulate' the media.
IJU President, Amar Devulapalli expressed concerns that the denial of advertisements amounted to an attack on the freedom of the press. He stated: "The action of the J&K Government under Governor rule goes contrary to the recommendations of the sub-committee on Kashmir of the PCI which said the advertisements should not be withheld to any newspaper on the grounds of objectionable reportage until it was considered by the PCI and gave its opinion."
IJU have demanded that PCI Chairman Justice C K Prasad intervene immediately and order restoration of the advertisements to Greater Kashmir and Kashmir Reader.
The IFJ said: "The withholding of advertisements by the Jammu and Kashmir administration is a serious cause for concern due to the financial implications this will have for working journalists and the future of media outlets. Actions such as these also raise questions about the freedom of the press in the region, which continues to be extremely dangerous for the media. We call on the Press Council of India to investigate and resolve the situation to ensure press freedom in India."- IFJ media release/Photo: AFP