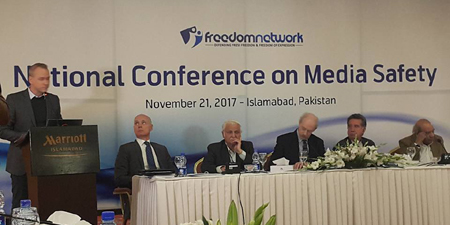 JournalismPakistan.com November 21, 2017


ISLAMABAD - A new global report showcasing how countries like Pakistan are combating impunity of crimes against journalists worldwide was launched to much acclaim here Tuesday.
According to a press release, several parliamentarians, ambassadors, rights activists and senior journalists sought government, media, and civil society partnerships to protect freedom of expression in Pakistan.

The report, "Defending Journalism – Global Best Practices," commissioned by UNESCO and produced by European organization International Media Support (IMS) showcased success stories about how journalists and media support groups are leading a determined fight against an assault on media freedoms globally, including in Pakistan.




The report highlighted Pakistani mechanisms that have won recognition internationally such as the Pakistan Journalists Safety Fund (PJSF), Editors for Safety (EfS), Press Clubs Safety Hubs Network (SHN) and Pakistan Coalition on Media Safety (PCOMS).

The leading speakers included Senators Farhatullah Babar and Afrasiab Khattak, Ambassadors of Norway Tore Nedrebo, Sweden Ingrid Johannson, UNESCO Director General Vibeke Jensen, senior intellectuals and journalists I. A. Rehman, Adnan Rehmat, Mazhar Abbas, Iqbal Khattak, Nasir Malik, Hamid Mir, Asma Shirazi, Amber Shamsi, Aoun Sahi and others. International media experts Lars Bestle, Toby Mendel and Ranga Kalansooriya as well as dozens of media and political rights activists also attended and participated.

Farhatullah Babar called for urgent enactment of a law on safety of journalists based on the principles of combating impunity, protecting journalists and welfare of the heirs of fallen media persons.

Afrasiab Khattak equated attacks on journalists as an assault on democracy. I. A. Rehman urged the political parties to fulfill their duty by helping the journalists to remain safe guardians of public interest. Adnan Rehmat urged partnerships between media, government, parliament and civil society to prevent erosions of freedom of expression.

Iqbal Khattak urged solidarity among key stakeholders to strengthen media freedoms.

Norwegian Ambassador Tore Nedrebo said continuing attacks on journalists and pressures on online media practitioners put a question mark on the quality of democracy and urged stakeholders to strengthen freedom of expression.

Swedish Ambassador Ingrid Johansson said the Nordic and European states support Pakistan's journey of great democracy saying progress on this is linked to protection and strengthening of freedom of expression.

UNESCO Executive Director Vibeke Jensen said Pakistan has committed to reporting on progress in combating impunity of crimes against journalists but sadly has failed to do and urged Islamabad to fulfill its international obligations.

The landmark report, assessing the progress of countries on implementation of the 2012 UN Plan of Action on Safety of Journalists and issues of Impunity generated a great deal of interest among the participants of the National Conference on Media Safety conducted by Freedom Network, Pakistani media rights organization, in collaboration with International Media Support organization.

The report is a comparative analysis of successful practices in seven countries on how national mechanisms in various countries are protecting journalists and media freedoms and addressing the issue of impunity.

Pakistan is one of the most dangerous places on the planet to practice journalism. Over 120 have been killed in the line of duty since 2000 and over 2,000 of the country's 20,000 journalists have been assaulted, injured, kidnapped, arrested or seriously intimidated in this period. The Pakistan government is currently drafting a bill on the safety of journalists to combat impunity of crimes against journalists and information practitioners.
Photo: (Facebook - Adnan Rehmat)