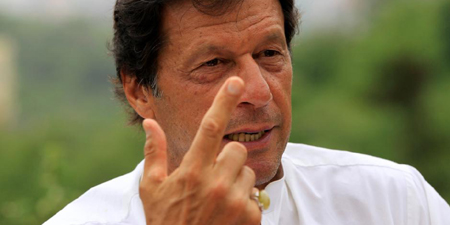 JournalismPakistan.com January 22, 2018


ISLAMABAD – The Geo-Jang Group has served a legal notice on Pakistan Tehreek-i-Insaf Chairman Imran Khan seeking an unconditional apology and 'token' damages of Rs1 billion for making defamatory statements against the media group and its CEO Mir Shakil-ur-Rahman.
Geo.tv reported that Khan has been given 14 days to comply or face civil and criminal cases.
The legal notice was issued after many "completely false and misleading... highly defamatory, disparaging and damaging" accusations intermittently made by Khan against the Geo-Jang Group and its chief executive since 2014, Geo.tv said.
"As a result of your recent representations, statements and expressions on electronic and print media and other forums and the resultant impressions, innuendoes and insinuations that have followed, grave defamation of Jang Group has been committed by you before an audience of millions of viewers and readers both in Pakistan and abroad," the notice said.
"The allegations are completely false and unfounded and evidently motivated. Your expressions have personal and ulterior motives and objectives, have malice in its construct and portray your biased bend of mind towards Jang Group," it said.
Photo: Reuters