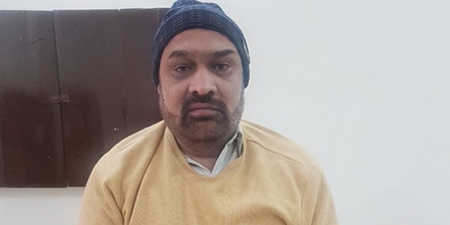 JournalismPakistan.com February 09, 2019


LAHORE - Members of the Federal Investigation Agency arrested journalist Rizwan-ur-Rehman Razi at his Lahore residence, according to Razi's son, Osama.
He told The Associated Press that armed men in plain clothes had been roaming outside their residence and they called his father outside. After an argument, they dumped him in a car and took him away, Osama said.
Later in the day, the FIA confirmed Razi's arrest on a charge of violating the country's cybercrime law.
An FIA official said Razi was booked for tweeting against state agencies, despite being warned and having submitted an apology in the past. The official spoke on condition of anonymity because he was not authorized to speak to the media.
Arshad Ansari, President of Lahore Press Club, condemned the incident and demanded Razi's safe return.
Journalists and press freedom advocates say the military and powerful Inter-Services Intelligence agency, or ISI, are pressuring media outlets to quash critical coverage.
The newly-elected government is meanwhile slashing its advertising budget, squeezing a key source of revenue for private newspapers and TV stations. - AP
Reuters adds: Rizwan Razi, who worked for private Din TV in Lahore, was being investigated for "defamatory and obnoxious" comments about the judiciary, government and intelligence services, according to Pakistan's law enforcement agency.
"My father went out of home to see off friends," his son Osama told Reuters of the incident on Saturday morning.
"When the friends left, unknown persons, riding a black Honda Civic car, thrashed and dragged him in the car and fled away ... I ran after the car but could not do anything."
A report from the Federal Investigation Agency (FIA), dated Saturday and seen by Reuters, said Razi had previously been questioned about his Twitter comments. It said authorization had been granted to register a case against him.
His account @RaziDada appeared to be offline on Saturday.
FIA officials in Lahore referred questions to the main office in Islamabad, where officials could not be reached.
Government officials say Pakistan has an independent media and the military denies pressuring journalists.