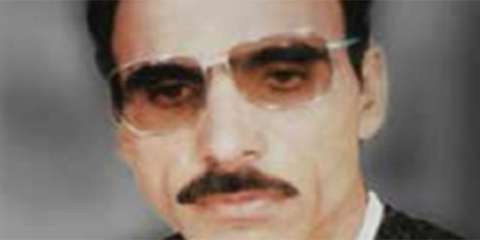 JournalismPakistan.com January 17, 2018 Myra Imran & Imran Naeem Ahmad



This story is one of 10 case studies highlighting the economic condition of slain journalists' families and the displaced reporters. Journalist Myra Imran traveled to remote and high-risk districts in Khyber Pakhtunkhwa and FATA to interview family members, their relatives, displaced journalists, and office-bearers of press clubs and journalist unions. The stories are part of a field study report Surviving the Story, launched on January 8, 2018, a collaborative initiative of JournalismPakistan.com and Communications Research Strategies (CRS).
Columnist and poet Fazal Wahab sat at a grocery store owned by his good friend in Mingora (Swat) one January evening in 2003. As they chatted, two men suddenly come out, their faces covered. They told all present not to move and then opened fire. Wahab was shot dead. His friend, who tried to stop the assailants, got killed too, as was a boy at a nearby shop.
The sound of gunfire rang through the Swat valley as people in their homes wondered what may have happened. Wahab's wife Shamim was visiting her father when she learned about the terrible news. "I could not believe this would happen to my husband," she said barely able to hold back her tears.
The columnist's son Samiullah was only 15 at that time. He says his father got targeted because of a book he wrote that upset religious extremists in the valley. Titled Mullah ka Kirdar (Mullah's Role), the book was a compilation of his articles on society and community welfare. The image on the cover - a mullah wearing a turban and its crown resembling a snake – appeared to anger the extremists. "I think it was the cover that created problems. Had they gone through the content of the book, they wouldn't have killed my father," believes Samiullah, who has three sisters and a brother.
Samiullah's grandfather had no idea what was going on. But when threatening letters began arriving at their home following the publication of the book – Mullah ka Jawab (Mullah's Answer) – in response to Wahab's book – he understood the gravity of the situation.
He tried to stop his son warning him he was risking his life; Wahab, however, remained convinced he was on the right track – writing the truth. He ignored all advice. Those who read Mullah ka Jawab say its author tried to convince people that Wahab deserved to be killed. He seemed undeterred though. He was responding to the mullahs through another book that he never got to finish, his life cut short by unidentified men.
Samiullah recalls the day his father hurriedly left for Islamabad, taking his passport along. The family had no idea what was happening. When he returned it transpired he was receiving serious threats for his book and attempted to seek asylum. Unfortunately, he never got the visa.
Only a matriculate, Wahab wrote boldly, oblivious to the consequences. He worked as a Grade 5 technician in the Expanded Program on Immunization (EPI), drawing a meager salary of Rs3000 back then.
In a startling disclosure, his son said his father used to save up to pay the newspaper for publishing his stories. His columns were published in Azadi and Mashriq newspapers.
He authored five books; Mullah Ka Kirdar was in Urdu and the rest in Pushto.
Hard as it was even when Wahab was alive, his death brought further misery for the family. His pension was only Rs660, the grandfather contributed Rs1000 to it. A measly 1660 rupees per month is all that the family had to survive. To make the matters worse, the grandfather died in 2013 putting an end to the monthly support of Rs1000.
"When he got killed, he had Rs1000 in his wallet and that bill was stained with blood and I had only Rs350 at home," says Shamim.
No one extended any help to the family. The government, the journalist unions or the news organizations did nothing. "They all knew about the tragedy that had befallen us. At least the unions could have put pressure on the government to arrest the killers and take care of our education," bemoans Samiullah, who holds a Master's degree in Political Science earned privately.
Wahab yearned for his children to be successful in their lives and become good professionals. His wish to see his elder son Samiullah become a doctor remained unfulfilled as he had to do odd jobs after his father's death to support the family. He most laudingly managed to complete a Master's degree despite all odds.
Shamim is heartbroken. She is disappointed that no support was forthcoming to help her son realize his father's dream of becoming a doctor. "Every mother desires her children to study well and have a good future. I had wished the same for my kids."
Related:
Azmat Ali Bangash – The last reporting assignment
Musa Khankhel – Truth silenced
Saleem Tahir - A tragic misfortune