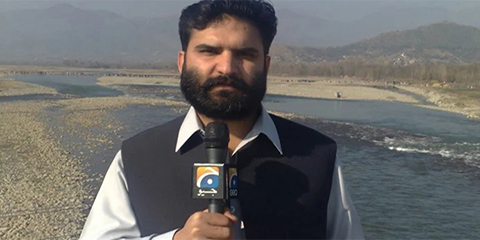 JournalismPakistan.com January 15, 2018 Myra Imran & Imran Naeem Ahmad



This story is one of 10 case studies highlighting the economic condition of slain journalists' families and the displaced reporters. Journalist Myra Imran traveled to remote and high-risk districts in Khyber Pakhtunkhwa and FATA to interview family members, their relatives, displaced journalists, and office-bearers of press clubs and journalist unions. The stories are part of a field study report 'Surviving the Story', launched on January 8, a collaborative initiative of JournalismPakistan.com and Communications Research Strategies (CRS).
On February 18, 2009, journalist Esa Khankhel sent a ticker to Geo Television about a dead body found in Matta, a small town in Swat district. Little did he know the corpse was that of his elder brother Musa Khankhel.
That tragic day Musa, also a journalist was busy covering a peace rally when he was abducted and later killed. The assailants shot him many times.
"I used to give tickers to Geo in his absence," says Esa, hired by the channel following his brother's killing.
Cleric Sufi Muhammad led the peace rally after a truce between the government and the militants. The security situation was quite bad in Swat Valley back then. "My brother used to receive threats all the time because he reported the truth, and he knew he would be killed."
Their father Abdul Ghani, a prayer leader at a local mosque, has no clue as to who was behind his son's cold-blooded murder. "We don't know who did it but we are waiting; Allah will expose them and we will get justice."
He praises the military for cleansing the valley off the Taliban. "I appreciate them and I am proud that my son played his part as a journalist in that process." His wife Hajra Bibi, a mother of seven children, is devastated; she couldn't recall the events the day her son got killed - a flood of tears rolling down her eyes. Speaking with the help of an interpreter, she says she knew her son was in a dangerous profession. "At times, I used to tell him to leave it but he believed life and death are in Allah's hands."
Musa's journalist friends, covering the same rally that fateful day tell Esa they lost track of him after the event ended. It was at 5.30pm when a source informed Esa of the dead body in Matta. Later, one of his friends called up to disclose the body was Musa's.
Esa happened to be in Swat by chance that day. He had left the area 10 days before the incident and was staying with a cousin in Islamabad. "I came to visit and planned to leave on February 19 but this happened."
He then chose to stay and report from Swat for Geo. "It was very tough at that time; journalists had no training. Now when I look back, I realize I took many risks but Allah saved me." He points out Swat is still not safe for journalists and thinks they could get targeted because such killings make for international news.
Musa's death brought misery to the family since he was the sole breadwinner. He was not married. The family never received the plot of land promised by Yousaf Raza Gillani, the then prime minister. Esa laments the journalist unions and press clubs should have followed up on that, especially those in Islamabad. "They could have pressed the government to honor its commitment." The unions did nothing for other journalists targeted and killed, he reflects. "Holding a random protest or a rally is not enough. What helps is ensuring the relevant authorities deliver the commitments and promises made to such families."
He acknowledges receiving a cheque for Rs500,000 from then President Asif Zardari. He also acknowledges the support lent by the media organizations. This assistance helped the family build their house.
The loss of his brother has been so painful for Esa that he has not spent a night at home since the gruesome murder. "I won't go back. I can't be there with him not around."
He recalls telling Musa to be careful in his reporting but says he never took his advice seriously. "The Taliban used to tell him to write whatever they wanted while the state authorities had their own version of events but he reported only the truth."
Esa suggests the Pakistan Federal Union of Journalists constitute a committee of credible members to press the authorities to help families of slain journalists. "You have to see to believe the appalling living condition of such families.
"If there's no assistance forthcoming from the government, the PFUJ would do well to explore international avenues. I am sure lots of Pakistanis living abroad are willing to help."
Esa does not see much coming out of the proposed Journalist Protection and Welfare Bill. It makes having a press accreditation card mandatory and that is not easy for journalists in smaller districts to obtain. "The owners of news organizations should organize these cards for their journalists."
Eight years since his brother's assassination, Esa wonders if the killers would ever be caught. "People get imprisoned for petty crimes like giving bread to the Taliban but my brother's murderers roam free."
Related: Saleem Tahir - a tragic misfortune