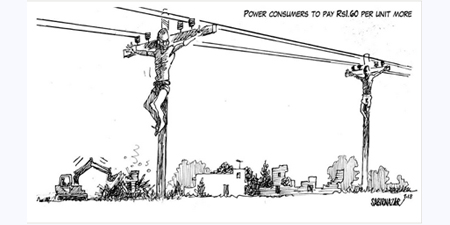 JournalismPakistan.com October 26, 2018


ISLAMABAD – A cartoon on the increase in power tariff published Friday in The Express Tribune has angered the Christian community.
The cartoon shows two men nailed to lamp posts like a crucifix.
Glenn Miranda posted the cartoon on Facebook and wondered why such images that hurt the sentiments of Christians are used.
"Some high ups of our community must take up this matter strongly with the government, urging not to use such images, which raise anger and frustration amongst the Minorities of Pakistan," Miranda commented.
Sabiha Mohammad, another Facebook user, commented: "You can forgive them but they should be made aware otherwise it might be repeated."
Journalist Gabriel D'Souza saw it as totally unethical and demanded that the newspaper apologize. "It shows that the cartoonist has no respect for other religions. It is condemnable. It has hurt the sentiments of the Christians."