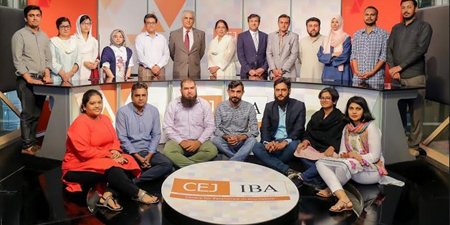 JournalismPakistan.com March 13, 2019


KARACHI - It is the media's job to be critical. But as you critique, you must remember to look at the positives too and give suggestions on how things can be improved.
Zafar Iqbal A. Khan, Chairman of the Pakistan Center for Philanthropy (PCP) Board of Directors stated this.
He spoke at the inaugural workshop on Philanthropy Reporting at the Center for Excellence in Journalism, Institute of Business Administration, Karachi on Wednesday.
Addressing the participants, who comprised journalists from various media outlets, Khan said the media is the fourth pillar of the state and is getting stronger with each passing day. He added the PCP is trying to engage with journalists as it will help them enhance the volume and effectiveness of philanthropic efforts.
PCP Executive Director, Shazia Maqsood Amjad highlighted the center's role in bringing credibility to the sector. Referring to its certification, she said that it was an effective tool to assess the conduct of nonprofit ventures in Pakistan.
She was of the view that a lot of organizations across Pakistan are doing amazing work and helping people in bringing positive changes in their lives. The media needs to track these stories so that such activities are encouraged in society at large.
Imkaan Welfare Organisation Director, Tahera Hasan advised journalists visiting underprivileged areas not to impose their ideas on the people living there and instead, ask them about their problems.
The workshop concluded with a certificate distribution ceremony among the participants. - A CEJ media release