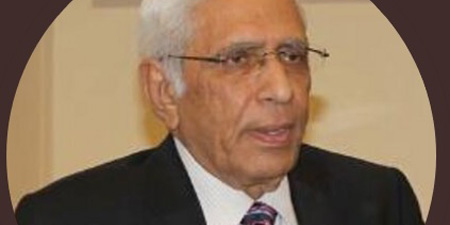 JournalismPakistan.com September 29, 2019


ISLAMABAD — Veteran journalist M. Ziauddin (pictured) has opposed the sacking of Khalid Hussain from The Nation, saying it shows that Pakistan Tehreek-e-Insaf government is weak and sensitive to any dissent and criticism.
"One can see this government is so weak that it cannot tolerate any satire or criticism," Ziauddin told BBC Urdu. He said in the last one, and a half year, there is a clear self-censorship in the media. "Those who don't toe this censorship have to pay the price."
The controversial cartoon published on the paper's editorial page on September 25 angered the government. It showed PM Khan drawing a carriage that has American President Donald Trump dangling a 'mediation' carrot in front of him, with Indian Prime Minister Narendra Modi seated.
The Nation apologized for publishing the artwork on September 26. "We would like to apologise deeply for a cartoon that appeared on our pages. The artwork fell short of our standards and does not reflect our editorial policy. It should never have appeared."
Ziauddin said it was inappropriate that a cartoonist has to lose job for a cartoon in which the prime minister has been lampooned.
He added that when a cartoonist makes a cartoon, or a columnist writes an article, "they cannot get them published directly unless cleared by the editorial staff or the editor." He said every newspaper has an editorial policy and the editor is responsible for whatever is published in the newspaper.
Photo: Twitter (@MuhammadZiauddin)