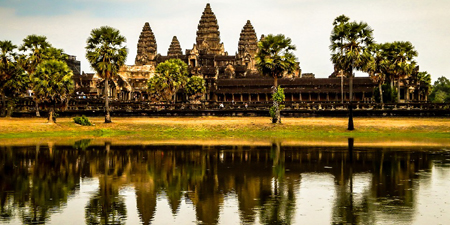 JournalismPakistan.com November 21, 2017


The International Federation of Journalists (IFJ) has condemned the arrest and charges against two journalists and detention of a third journalist in Phnom Penh between November 14 and 15.
The IFJ reiterated its early calls for the Cambodian government to end the crackdown on press freedom, which is creating a culture of fear among the media.
On Tuesday, November 14, Oun Chhin and Yeang Sothearin, former Radio Free Asia (RFA) journalists, who work under the byline, Yeang Socheameta, were arrested at a Meanchey district guesthouse in Phnom Penh where they were allegedly trying to set up a karaoke production studio.
Officials claimed that the KTV studio was illegal because the pair did not have the requisite permissions. However, local media suggested that the arrests were the result of the pair sending news reports to RFA headquarters in the US. RFA shut its operations in Cambodia in September after a government-led crackdown on independent media saw broadcasting of RFA programs impossible.
On Saturday, November 18, a Phnom Penh Municipal Court investigating judge ordered that Oun and Yeang be transferred to Prey Sar prison for pretrial detention after they were provisionally charged with espionage earlier in the day. The Ministry of Interior later confirmed that the pair is being investigated for allegedly setting up a studio for RFA, which they have denied.
In a separate incident, a former Cambodia Daily reporter, Len Leng, was detained and questioned for nearly three hours at the Chaktomuk commune police station on Thursday, November 16. Len was detained for allegedly not having a press pass, as she tried to observe the court proceedings regarding the government opposition, the Cambodia National Rescue Party.
Len's detention came after the Phnom Penh Municipal Police Chief Chhoun Sovann had said earlier in the day that the trial was open to the public.
The IFJ said: "The situation in Cambodia has become a strong cause of concern, with the media bearing the brunt of the government crackdown. The culture of fear and intimidation that the government is fostering is only working to weaken the role of the press and its ability to report freely and independently. The press has a vital role, particularly in the lead up to elections, yet the Cambodian government is working to remove this role, which only works to weaken Cambodia's democracy."- IFJ media release