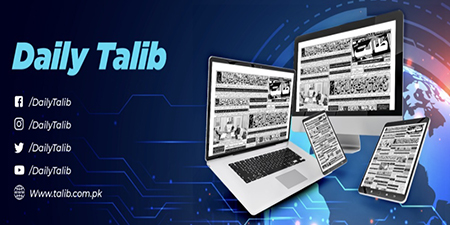 JournalismPakistan.com March 25, 2022


QUETTA—Balochistan 's leading Urdu newspaper Daily Talib has decided to launch its state-of-the-art digital version to expand its outreach.
According to Editor-in-Chief Nasir Shah Wani, the Quetta-based paper is widely popular and currently has a circulation of 16,500 in Quetta and other parts.
"We are quite confident that our upcoming website www.dailytalib.com would provide a truly digital experience to our loyal readership and prove itself a valuable addition to the news industry, keeping the significance of digital market in view," he said.
Mr. Wani emphasized that digital media has become a strategic tool throughout the world in defining the new role of print.
The paper, founded in 2004, is one of the oldest newspapers in the province. The core team comprises Mr. Wani, administrator Muhammad Iftikhar, and Group Editor Maqbool Ahmed Jaffar.