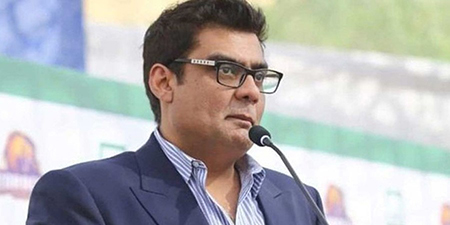 JournalismPakistan.com October 29, 2022


ISLAMABAD—Salman Iqbal, CEO of ARY News, is ready to become part of the probe into the killing of journalist Arshad Sharif provided the UN Human Rights office does it.
In a statement, Iqbal said: "I am calling an independent investigation overseen by the UN Human Rights office, and I will of course provide my full cooperation to any such investigation seeking to get a full truth behind the killing of Arshad Sharif with a view to bringing those responsible to justice."
During his unprecedented presser on Thursday, Director General of ISI, Lt. Gen. Nadeem Ahmed Anjum, called for bringing Iqbal back home and being part of the probe into Sharif's killing.
However, the ARY boss refused to participate in the investigation launched by the Pakistan government. "It has been stated that I should be included in the investigation into the killing of Arshad. I do not believe in the independence of the investigation being undertaken by the present PMLN government but will answer any questions put to me."
He denied any involvement in the killing of the journalist.
"The wild and baseless allegations recently levelled against me by the Interior Minister in relation to Arshad's killing are a continuation of this campaign. Let me say categorically that I had no involvement whatsoever in the gruesome act against my brother."
He added: "am sad and shocked that no commission has yet been formed and instead the government has been holding multiple press conferences at which outlandish insinuations have been thrown around implying that I am part of a conspiracy. It is disgusting to try and politicise his death in this way."
He regretted that the government led by PMLN was running a smear campaign against him. "The government has been running a smear campaign against me since coming into power in April 2022, calling me a gold smuggler and arms dealer, among other things."
He said because of threats and cases, he fears for his life.
"The FBR, FIA, PEMRA and SECP have been weaponized to politically attack me, with numerous FIRs, arrest warrants and a sedition case issued against me. These unwarranted attacks on me and the persecution of journalists by the PMLN government have left me fearing for my safety and unable to return to Pakistan for the past six months."
Photo credit: karachikings