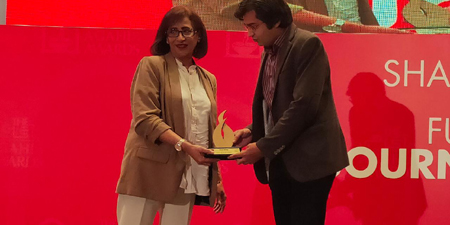 JournalismPakistan.com November 25, 2019


ISLAMABAD — The AGAHI Awards, recognized and honored 47 journalists for media excellence and ethics on Monday.
The organizers received thousands of submissions in more than 40 categories from across Pakistan.
A jury of national and international experts, development specialists, academicians, and media professionals evaluated the submissions made by journalists from print, television, radio, and online media.
Leading opinion-makers, reporters, senior journalists, policymakers, diplomats, ambassadors, academicians, and others attended the award ceremony.
Danish Ambassador Rolf Michael Hay Pereira Holmboe, Ambassador Andrulla Kaminara, the Head of Delegation of the European Union Mission to Pakistan, Former Secretaries Muzaffar Qureshi and Syed Kamal Shah along with prominent academics gave the awards to the winners.
Puruesh Chaudhary, President AGAHI and the co-founder of the AGAHI Awards in her keynote address said: "Open-data, right to information and access to resources are critical drivers of research and innovation that enable a knowledge economy. To carry this momentum in the right direction, freedom of media is one of the most important instruments for the society to prosper."
Amir Jahangir, Chief Executive Officer, Mishal Pakistan and co-founder of AGAHI Awards, shared his vision for creating the awards and said: "Journalism is evolving from institution centric to people-centric journalism. The AGAHI Awards is a catalyst to recognize the best knowledge creators in the society for a more informed and interconnected ecosystem, journalists winning today, show storytelling skill sets, techniques, and comprehension of issues impacting the society".
He further said, "Journalism in Pakistan is at par with international standards in terms of fairness, quality and professional competence."
The following journalists were adjudged winners for the "Journalist of the Year 2019," reporting on:
Accountability: Abdul Waseem Abbasi
Agriculture Policy: Mohammad Hussain Khan
China Pakistan Relations: Zamir Assadi
Climate change: Islam Gul Afridi
Conflict: Farhat Javed Rabani
Corporate Social Responsibility: Fayaz Ahmad
Creating Shared Value: Zeeshan Anwar
Culture and Heritage: Rahim Bux Sagar/Waqar M. Khan
Data Journalism: Maimuna Raza
Democracy 2019: Abdul Rasheed
Ease of Doing Business: Mubarak Zeb Khan
Economy: Farooq Baloch
Education: Shafaq Rafi
Eliminating Hidden Hunger: Muhammad Atif Sheikh
Energy: Zulqarnain Hundal
Entrepreneurship: Saima Shabir
Environment: Umer Nangiana
Extremism and Terrorism: Umar Bacha
Foreign Policy: Ammad Khaliq
Foresight Futures: Syed Babar Ali
Fourth Industrial Revolution: Ramsha Jahangir
Global Dignity: Muhammad Ibrahim
Governance: Munawar Ali Rajput
Health: Karim Islam
Human Rights: Shumaila Jaffery
Identity: Ummara Sheraz
Inclusiveness: Shazia Hasan
Infotainment: Faisal Zafar
Innovation: Sana Jamal
Innovation Journalism: Mahrukh Sarwar
Media Ethics: Rizwana Naqvi
Out of School Children: Arshad Yousafzai
Photojournalism: Zoral Khurram Naik
Police Reforms: Adnan Aamir
Rule of Law: Ahmad Sarfaraz
SRHR: Makhdoom Muhammad Shahab Uddin
Sports: Sana Jamal
Sustainable Development Goals: Rizwan Ahmed Tariq
Video Journalism TV: Furqan Ellahi
Vocational Training and Technical Education: Ayaz Ahmad
Water Stewardship: Ikram Ullah Marwat
Welfare: Yousaf Ajab Baloch
In the People's Choice Awards categories:
Favorite Current Anchor (Male): Ahmed Qureshi,
Favorite Current Anchor (Female): Maria Memon
Favorite News Channel of the Year for 2019: ARY News
The Founders' Choice Awards for Investigative Journalist of the Year 2019: Aamir Saeed Abbasi from Dunya TV.
The News Manager of the Year 2019: Zafar Iqbal Ramay from the Express Group.
This year a special award was presented jointly to Mazhar Iqbal and Pervez Shaukat in recognition for their struggle and contributions to safeguard the interests and rights of the working journalists in Pakistan.