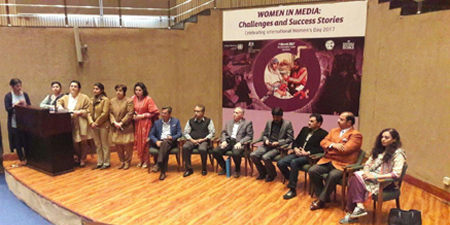 JournalismPakistan.com March 07, 2017


ISLAMABAD: Women journalists from across the country Tuesday demanded representation of women on the reserved seats in all media regulatory and journalist bodies.
The demand was part of a declaration presented at the end of a two-day National Women Conference organized collectively by National Press Club (NPC), United Nations Information Center (UNIC) and British High Commission (BHC) to commemorate the International Women Day.
Around 60 women journalists and presidents of press clubs from Karachi, Quetta, Lahore, Multan, Hyderabad, and Peshawar attended the conference. It was inaugurated with one-day training on the safety of digital space and legal protection for women journalists.
The second day featured interactive panel discussions on solutions to the issues faced by women journalists. State Minister for Information Maryam Aurangzeb was the chief guest.
The declaration, presented by the women members of NPC governing body, also demanded provision of basic facilities for women in news organizations on a priority basis and formation of committees to address complaints of sexual harassment in all media houses, unions and press clubs. Besides, the declaration called for an increase of quota for women journalists in government-run women hostels and provision of free legal services.
Speaking at the end of the conference, Information Minister Maryam Aurangzeb said it was heartening to see all the stakeholders getting together in order to create an enabling environment for women in media. She stressed the need to work with men to ensure women rights in true spirit.
President National Press Club Shakeel Anjum said it is the responsibility of all media persons to create an enabling environment for women in media. He urged all press clubs to follow the example of NPC in reserving seats for women journalists in the governing body.
Deputy Political Counselor for British High Commission Jude Muxworthy spoke about the importance of mainstreaming women in media. She said all stakeholders should work together in identifying and solving issues faced by women in media.
Earlier, the panelists of different sessions shared their experiences, the measures taken to ensure women rights and the areas that require special attention.
Special Assistant to Prime Minister Musadik Malik talked about the initiatives taken by the government and called for more efforts to ensure gender equality. "We are moving in the right direction but a lot needs to be done to protect women rights," he said.
Anchorperson Tanzeela Mazhar described her experience and talked about the social mindset that tends to protect the harassers instead of providing justice to the victim.
Vice President National Press Club, Naveed Akbar briefed the participants about the measures taken by NPC in tackling the issue. He said NPC recently announced a committee on harassment which will deal with such complaints in future.
Rights activist Dr. Maliha Hussain called for the implementation of anti-harassment legislation in media houses and journalist bodies. She said that after Protection of Women against Harassment at Workplace Act 2010, it is obligatory for all organizations to have committees on harassment and also to display the code of conduct at a visible place in the organizations.
Kamal Siddiqi, Director, Center of Excellence in Journalism (CEJ) said Pakistan had star women journalists in the past and a very talented young lot of women journalists were making their mark in the media. He stressed the need for taking measures to mainstream women in media rather than creating separate spaces for them.
Myra Imran, Vice President National Press Club and Deputy Editor and Media Researcher with JournalismPakistan.com pointed out that special measures were required to mainstream women journalists. "When we were setting up a room reserved exclusively for women at the National Press Club, we were quite confused. But when an eight-month pregnant journalist thanked us for our idea, it showed we did the right thing."
Bureau chief of a private news channel in Peshawar, Farzana Ali Khan said that once a woman decides to bring change, no hurdle can stop her from achieving her goals.
Kathy Gannon, Associated Press Foreign Correspondent, shared her experience of covering Pakistan and Afghanistan. She said that environment has changed for women journalists and there is more acceptability for them as compared to the time when she started reporting.
Director United Nations Information Center Vittorio Cammarota spoke about the background of organizing the conference. He termed it a positive sign that a large number of women have joined Pakistani media. He said the objective of the conference was to create awareness on labor laws and digital safety among women journalists and share inspiring success stories in addition to identifying key challenges and opportunities for women in media.