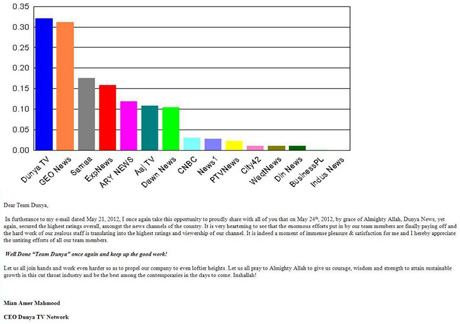 JournalismPakistan.com May 30, 2012
KARACHI: Earlier this week former Lahore Mayor Mian Amer Mehmood, owner and Chief Executive of Dunya TV, felicitated the staff of the channel for securing the highest overall ratings for news channels in the country.

While saying it was a moment of great satisfaction to him, he praised the people who had made it happen through their untiring dedication. And yet somehow this news never really made its way to the rest of the news industry. It should have.

Not since 2005-2006 when Geo was briefly challenged by an emerging Aaj TV has this situation come about. So if Dunya really did top the news channels overall ratings they should have been shouting it from the rooftops. It was big news. Why was this 'celebration' restricted to an email? Why was it so subdued?

Indeed, this was the kind of news the industry would welcome. Domination of any one channel for long periods is detrimental to the growth and development of the industry. It shows stagnation and lack of resources and infrastructure to grow. A successful challenge to change this status quo would bring new life to the industry and arm other channels with hope and belief to prepare to do battle.

None of this happened.

In fact, it's as if nothing happened. No buzz, no excitement, not even acknowledgement that such a development had occurred.

On the other hand the Geo machine continues to roll on unperturbed and oblivious of the danger to the top spot it has held since 2003-04.

Geo is sitting pretty in the knowledge that they have not been displaced and to prove this they have the very same ranking graph that Dunya has, only this one shows that Geo is still on top. Geo's graph is supported by a daily excel worksheet showing the daily ratings/rankings.

So who is telling the truth?

According to the Dunya graph, its channel is at the top, followed by Geo, Samaa, Express, ARY, Aaj, DawnNews, CNBC, News1, PTV News, City 42, Waqt, Din, BusinessPlus and Indus.

The Geo graph states that it is at the top followed by Dunya, Samaa, ARY, Dawn, Express, Aaj, News 1, CNBC, Din and Waqt.

One thing, however, is clear from both charts: the difference between Geo and DawnNews is not the yawning abyss it used to be. Is there hope then for some real competition in the future months?