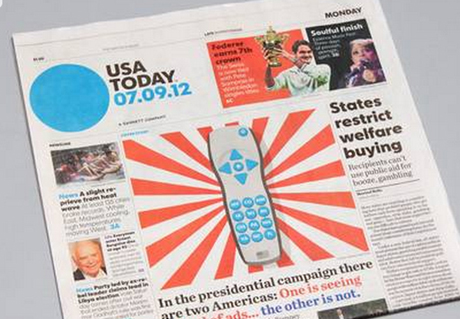 JournalismPakistan.com September 16, 2012
USA Today has unveiled a redesigned layout of its top-selling US daily and other platforms as the flagship of the Gannett media group celebrates its 30th anniversary.
The revamp offers "a bold new look that takes visual storytelling to the next level," the company said in a statement.
"The new USA Today remains true to the original, but with a more current, modern approach; smart and succinct, inclusive and honest, relevant and useful, trusted, unbiased and as always, straight to the point."
The daily features a "unique new logo" with a large blue dot on the front page and similar designs on other sections.
The shift is "designed to reflect the pulse of the nation and be as dynamic as the news itself; and a new suite of digital offerings," it said.
The redesigned newspaper was launched Friday and the USAToday.com beta site was to go live over the weekend to mark the anniversary of the launch of the daily on September 15, 1982.
The website, tablet app, new Facebook app and new mobile apps are being overhauled "to facilitate bigger images and graphic-driven stories while presenting them in 'a fun, engaging' way, the company said.
"We are making a real investment in USA Today, and putting a major focus on reinvigorating the value of print media while introducing new digital products in order to provide our readers with a unique perspective and relevant context on a full range of issues, across all mediums," said Larry Kramer, president and publisher.
"We are revolutionizing the way we cover and distribute the news in relevant ways that inform and entertain our readers. This redesign will highlight stronger voices, and further cement USA Today's status as one of the nation's premier news outlets that continues to reflect the American experience. We are America's newspaper and we take that responsibility seriously."
According to figures from the Audit Bureau of Circulation, USA Today is the largest US daily in print with circulation of 1.7 million. But its digital circulation of 115,000 lags behind many others including The Wall Street Journal and New York Times, and the combined circulation data shows USA Today second behind the Journal. - AFP