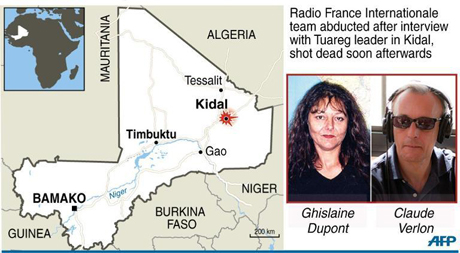 JournalismPakistan.com November 04, 2013
PARIS: Two French journalists kidnapped and killed in northern Mali were shot to death and their bodies were found near the car that sped them to their doom, French foreign minister said Sunday.
Laurent Fabius sketched out the few known details of the killings Saturday of Ghislaine Dupont, 51, and Claude Verlon, 58, seasoned journalists who worked for Radio France Internationale. Their deaths triggered questions over the lack of a centralized authority in parts of northern Mali where both U.N. and French troops are based.
Fabius spoke after a meeting of key ministers with the French president, Francois Hollande, who had ordered a military intervention in Mali in January to oust al-Qaeda and other radical groups from the north, deeply implicating France in the destiny of its former west African colony.
The journalists were abducted Saturday by an armed group after an interview with a Tuareg rebel leader in the town of Kidal, which remains under the de facto rebel control despite the presence of French and U.N. troops, Fabius said. Their bodies were found 12 kilometers (8 miles) from Kidal and "several meters" from the car.
The head of RFI, Marie-Christine Saragosse, who also met with Hollande, said the lifeless bodies were found 80 meters (87 feet) from the kidnappers' car.
Fabius described the killings as "odious, abject and revolting."
He said one journalist had been hit with three bullets, the other two — but the car showed no impact from bullets.
A person who saw their bodies, and four Malian officials briefed on the matter said Saturday that their throats had been slit.
"Action was immediately taken to try to find the killers," Fabius said. He did not provide details.
With Mali in turmoil, it was not clear who was responsible for the slaying. Both Tuareg separatists of National Movement for the Liberation of the Azawad, known as NMLA, and al-Qaeda-linked fighters operate in the area. - AP