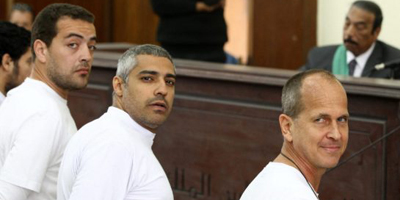 JournalismPakistan.com April 10, 2014
CAIRO: The trial of three jailed Al Jazeera English journalists, falsely accused of providing a platform to an outlawed group, has been adjourned until April 22, according to aljazeera.com.
The prosecution produced on Thursday video material that it claimed supports the case against the Al Jazeera team - Peter Greste, Mohamed Fahmy, and Baher Mohamed - who appeared in court for a fifth time in the 103 days spent an Egyptian jail.
The court screened Greste's reports from Kenya and content from Sky News Arabia's coverage of Egypt. The judge ordered a special panel to review the videos presented into evidence by the prosecution.
Defence lawyers told the court that the reports had nothing to do with the case.
The three men are charged with spreading false news and aiding the blacklisted Muslim Brotherhood of deposed Egyptian President Mohamed Morsi, who was overthrown by the army in July.
Al Jazeera strongly rejects the charges and demands for the immediate release of its staff.
A fourth Al Jazeera journalist, Abdullah al-Shami, has been held in Egypt for more than six months and has been on hunger strike since January 23. His detention was extended for an additional 45 days on March 13.
Another Al Jazeera journalist, Mohamed Badr, was arrested on July 15 and released on February 5, when he was acquitted of a series of charges including being involved in the protests in Cairo's Ramses Square.