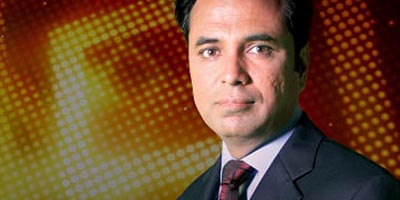 JournalismPakistan.com July 26, 2012
ISLAMABAD: Senior television anchor Syed Talat Hussain is to join Express News soon ending an almost two-year stint at DawnNews, JournalismPakistan.com has learnt from multiple sources.

Talat, who hosts the program 'News Night with Talat', is said to have submitted his resignation serving an advance notice of one month.

Insiders at Express News say he will be hosting an 8:00pm prime time talk show.

There had been reports earlier Talat was not getting along well with the Karachi-based DawnNews Editor Zahid Mazhar, the man who is said to be responsible for triggering the resignation of a group from Samaa TV to replace Matiullah Jan, Azaz Syed and a few others.

Although Zahid and Talat had reportedly ironed out their differences back in June, some scars on the relationship remained.

At one point, the two reportedly exchanged hot words on telephone with Talat opting not to meet the editor on two separate occasions in Islamabad.

Following that snub, it is said the editor recommended Talat be fired. This was before they patched up.

Talat was also recently involved in a row with Geo TV anchor and prominent analyst and columnist Najam Sethi.

In his program, Talat openly accused Sethi of being party to favor-seeking from well-known property tycoon Malik Riaz. It is reckoned professional jealousy also precipitated the fall out - Talat's show lags behind Sethi's in ratings and this apparently irked him enough to have a go at Sethi.

He directly accused Sethi of taking favors from Malik and said it was from here that he got information on what was happening within the corridors of power.

In his own program, Aapas ki Baat, Sethi rebutted Talat's allegations and accused him of being jealous and said it was but an attention-getting gimmick on Talat's part.

In another program later, Talat revealed his bank statements, saying he had not taken any illegal money from anyone.

Talat had joined DawnNews in October 2010 from Aaj TV where he was Executive Director News and Current Affairs.