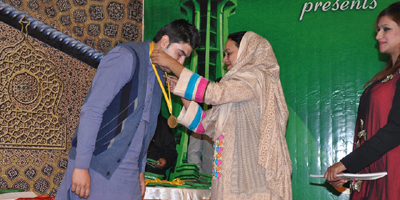 JournalismPakistan.com December 14, 2014
ISLAMABAD: Journalists Foundation Pakistan posthumously awarded a gold medal to journalist Siraj-ud-Din for his services in the field.
Siraj was associated with The Nation as a reporter and his career in the field spanned over two decades. During rise of the Taliban in Swat valley, he received life threats from the militants for not publishing their viewpoint.
He, however, refused to bow down before the Taliban pressure and kept highlighting their atrocities against innocent people of the scenic valley. He was martyred in a suicide attack on Feb 29, 2008 in Mingora, Swat.
The Journalists Foundation Pakistan organised a function at the Rawalpindi Arts Council where people from all walks of life paid rich tributes to Siraj-ud-Din.
Haroon Siraj, son of the deceased who is also a working journalist, received the posthumous award for his father.