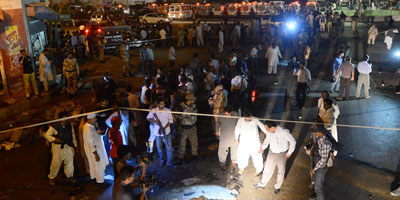 JournalismPakistan.com November 22, 2012
NEW YORK: The Committee to Protect Journalists (CPJ) has called on Pakistani reporting teams in the field and their assignment desks to remain vigilant about the risks and take as many precautions as possible, including using protective gear, when covering high-risk events.
Several Pakistani journalists were injured in a bomb blast Wednesday at a Shia site in Karachi that came just 30 minutes after an earlier explosion, according to news reports.
"Our condolences go out to all those affected by this ugly attack," said Bob Dietz, CPJ's Asia program coordinator. "Covering news in Pakistan has always been dangerous, and we have seen the use of delayed secondary explosions a few times before. Journalists and other first responders are the obvious targets of such terrorist tactics."
The second bomb went off about 50 feet from the first one, and wounded reporters, police officers, and bomb disposal teams who had arrived at the scene.