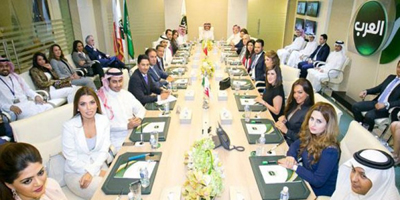 JournalismPakistan.com February 02, 2015
Programming at a pan-Arab news channel owned by Saudi billionaire Prince Alwaleed bin Talal was unavailable on Monday, hours after its first transmission from Bahrain.
The satellite feed of Alarab News Channel showed only promotional material, and an Alarab executive declined to comment.
The channel later said on its Twitter account that broadcasting has "stopped for technical and administrative reasons and that it will be back soon."
The head of media at Bahrain's information ministry, Yusuf Mohammed, said "cooperation with Alarab's administration is ongoing, in order to resume its broadcasts and complete necessary measures as soon as possible."
His statement, carried by the official BNA news agency, did not elaborate on the causes of the interruption. The channel took to the air at 1300 GMT on Sunday.
One of its first segments included a Shiite opponent of Bahrain's Sunni rulers, sparking criticism in pro-government Bahraini daily Akhbar al-Khaleej.
The newspaper said it learnt that Alarab was stopped for "not adhering to the norms prevalent in Gulf countries".
In a column in the same newspaper, editor-in-chief Anwar Abdulrahman asked: "Is Alarab really Arab?" He condemned the channel for hosting former member of parliament Khalil Marzouq, who is "radical to the core."
"Resorting to muscle flexing in news coverage, with the hope of proving that you are an independent channel, is not going to work," he wrote.
Alarab entered a crowded field that includes the first regional broadcaster, 19-year-old Al-Jazeera which is subsidised by Qatar.
It is also a rival for Dubai-based Al-Arabiya, established in 2003 and owned by Saudi Sheikh Waleed al-Ibrahim.
Critics have accused the established broadcasters of reflecting their owners' political views, especially during the 2011 Arab Spring uprisings against authoritarian regimes in the Middle East and North Africa.
Both long-running channels deny any slant in their reporting.
Alarab had vowed to be even-handed in its coverage.
"We are not going to take sides," Jamal Khashoggi, the general manager, told AFP in an interview before the launch.
"I think a news channel should not have a political agenda… We should just be a news channel that provides accurate, objective information."
Because Saudi Arabia does not allow "independent" channels, Alarab had to find an alternative location "so Bahrain is appropriate", he said.
"Our channel in Bahrain is the first independent channel to be launched" in the Sunni-ruled island state, which is linked to its ally Saudi Arabia by a causeway.
The tiny but strategic Gulf nation has been rocked by unrest since a 2011 uprising led by its Shiite majority demanding a constitutional monarchy and more representative government. - AFP