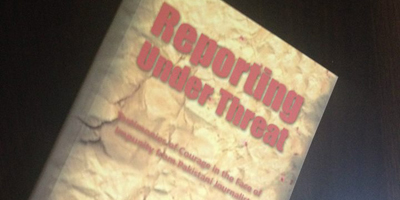 JournalismPakistan.com March 20, 2014
ISLAMABAD: Prominent media analyst and media development expert Adnan Rehmat has launched his book 'Reporting Under Threat' - testimonies of courage in the face of impunity by Pakistani journalists.
At the launch Wednesday (March 19) were the Federal Minister of Information and Broadcasting Pervaiz Rashid, Committee to Protect Journalists (CPJ) Board Director Katy Marton, Member of National Assembly Haider Rizvi, Freedom Network Executive Director Iqbal Khattak, senior journalists, representatives of civil society and international media support organizations.
The book includes testimonies from 57 Pakistani journalists, among them editors, reporters, cameraperson, sub-editors, news directors, photographers, correspondents and stringers associated with print and electronic media.
In a comment on Facebook, Adnan said these 57 profiles of courage represent the broad gamut of media and journalism work in Pakistan – geographically they're from virtually all regions of the country.
"Testifying to their vulnerabilities are journalists of both genders – men journalists facing up to their captors and killers, and women journalists facing the brunt of harassment and intimidation – the accounts offer a representative sample of threats they face daily."
Adnan said that also revealed from the stories was the broad spectrum of actors that bring terror to journalists' lives: the government, political parties, security forces, intelligence agencies, militants, terrorists, religious leaders, feudal landlords, businessmen, even civil society organizations – they figure in the hall of shame of actors tormenting Pakistani journalists.