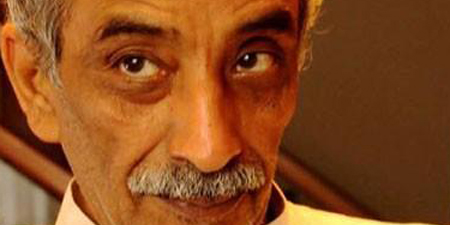 JournalismPakistan.com April 05, 2017 Hassan Gillani



ISLAMABAD -"Main Itna Angraiz Nahin Hun Bhaai, Mujhay Apni Yeh Story Urdu Main La Kar Do" (I am not an Englishman; give me your story in Urdu". This was what late Masoom Usmani Sahab said to me with a grin on his face when I handed him my story written in English. I had just joined PTV as a resource person, and this was my first ever piece, and first ever meeting with this veteran journalist at PTV Islamabad center's newsroom in August 1998.
As suggested, I tried drafting the story in Urdu and again took it to him. Sitting right in the middle of a round table, he cast an eye over it, took a deep puff on his cigarette and looked at me silently for a few seconds, as if saying: "Oh man, you really suck".
Having studied at an English medium school, and having worked at an English newspaper (The Muslim), my Urdu writing was awful.
Realizing it was useless for him to ask me to rewrite the piece in Urdu, he pulled out a paper and translated my English story into Urdu. And this was where the journey of my learning from this immensely competent man started. After 4-6 months of constant guidance and help from him, I was finally able to bring my Urdu writing to a level where I was not making my editors tear their hair anymore.
I was not the only budding journalist at PTV who was groomed by Usmani Sahab. He was supportive to all the youngsters who sought his guidance. The most interesting part of his nature was the way he used to point out our mistakes. He would neither scold, nor be rude to anyone. He rather had his own unique style of twisting our arms. For instance, in spite of improving my writing skills, I was not able to write certain Urdu words correctly. One day while editing my story Usmani Sahab in a very gentle but firm tone said to me: "Main soch raha hun apnay pass aik Kalashnikov rakhon, un logon k liye jinhain Urdu likhni nai aati" (I am thinking of keeping a Kalashnikov with me for people who don't know how to write Urdu).
I can go on and on recalling all the interesting things about Usmani Sahab. He was a great journalist and a very fine human being. From 1998 until he joined Geo TV in 2002, I did not ever see him being impolite to anyone. While working under tremendous pressure, and running against deadlines, he always kept his cool and maintained his composure.
So friendly was his nature that several of my colleagues and I would often go up to him to discuss our personal issues which he always listened to with empathy.
During my school days, I used to read his name in the credits after news bulletins on PTV. I had never thought that one day I would be fortunate enough to work with this man of high intellect.
Usmani Sahab, your death is a great loss. Your sweet and gentle nature will always be missed. May Allah rest your soul in peace. Amen.
(The writer is a former PTV correspondent)