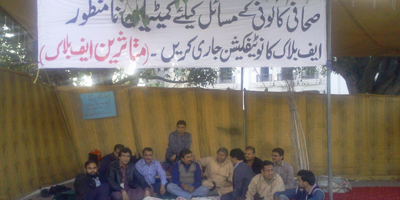 JournalismPakistan.com March 05, 2013
LAHORE: A hunger strike by seven council members of Lahore Press Club (LPC) entered the second day Tuesday.
The striking members are camped outside the Punjab Assembly, pressing for allotment of plots in a journalists' housing society in Harbanspura.
They claim about 295 LPC members were promised plots by the government in the society's F-Block in 2007, but owning these was still a dream for them.
Sher Afzal Butt, a protesting member told JournalismPakistan.com on phone that some government representatives had asked them to call off the strike and discuss the matter across the table. "We have been duped in by authorities many a time; but now we will settle for nothing else than clear proof of land transfer in our society's name."
Butt said they were not seeking alms. "Owning a plot in the housing colony is the right of every LPC council member, granted under section 7(1) of The Punjab Journalists Housing Foundation Act 2004."
He pointed out they were told by the LPC leadership the government had allocated Rs300 million for land acquisition for this purpose but this amount was lying unused.
LPC President Arshad Ansari, Secretary Zulfiqar Mehtu, Treasurer Afzal Talib, governing body member Nasira Ateeq and around 100 journalists visited the camp Tuesday to express solidarity with the protesters. Two of the protesters, Sudhir Chaudhry and Asif Butt, are also members of LPC governing body.
The timing of the hunger strike is crucial with the Punjab Assembly likely to meet for an important session within days. Some people think there could be a clash if the administrative machinery tried to clear the area and remove the hunger strike camp forcefully.