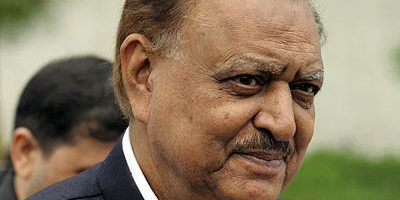 JournalismPakistan.com June 02, 2014
ISLAMABAD: In his first address to the joint session of the parliament Monday, President Mamnoon Hussain said the government cannot even imagine slapping any restrictions and bans on media.
"But at the same time we expect and hope media will form a code of conduct on which it also acts," the president told the inaugural session of the new parliamentary year. "Media is free in Pakistan but the people of Pakistan also feel that media should be aware of its responsibilities and limits."
The comments on media in the presidential address seem aimed at cooling down the "media battles" which erupted following the April 19 attack on Hamid Mir.
With Geo TV and other channels, especially ARY, involved in a bitter battle, the government seems to repeatedly send out the message that no media outlet will be closed down.
President Mamnoon said media is performing the task of oversight admirably. He hoped that when the media would live by its own code of conduct, people will consider it a true "representative of their aspirations."
The president termed continuation of democracy essential for prosperity, and congratulated lawmakers on completion of the first parliamentary year, adding that legislature played a crucial role in stabilizing democracy.