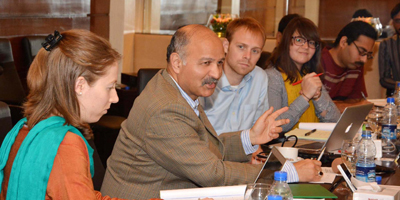 JournalismPakistan.com April 06, 2014
ISLAMABAD: Chairman Senate Defense Committee, Senator Mushahid Hussain Sayed has said the Pakistani people showed resilience in the war against terrorism, sacrificing much more than any other country.
He said Pakistan's democratic transformation, with multiple power centres and political pluralism, deserves fair and better treatment in the US media. He was talking to a delegation of American journalists, currently visiting Islamabad as part of the US-Pakistan Journalist Exchange Program, offered by the East-West Center.
Senator Mushahid said that the problems faced by the US after 9/11 were due to wrong policies of Washington, particularly an 'ideological foreign policy' that included the unwarranted invasion and occupation of Iraq, the rejection of Saudi Arabia's Middle East peace plan and placing Iran on the so-called 'Axis of Evil', even though Tehran cooperated with the US both in Afghanistan and Iraq.
Such wrong policies fuelled anti-Americanism, he added.
In the context of upcoming US/NATO forces withdrawal from Afghanistan, he stated that the biggest problem in US policy had been confusion and contradictions, as sometimes the United States requested Pakistan to arrange talks with the Afghan Taliban, while on other occasions, Washington wanted Pakistan 'to take on the same Afghan Taliban'.
"Regrettably, for the most part, American policy towards Afghanistan and Pakistan had been outsourced to the generals in the Pentagon and the spooks in the CIA", he added.
Talking about the US-Pakistan Journalist Exchange Program, the American journalists informed that the journalistic exchange, offered by East-West Center, provides media of both sides an opportunity to gain firsthand information to better understand the perspective and public opinions.
The journalists thanked Senator Mushahid for the frank, open and on the record discussion which, according to them, will be very beneficial to bring new insights on bilateral relationship and gain a better understanding of regional dynamics, historical context, and ground realities that affect both countries.
The delegation included Ms. Kellen Michelle Henry, Mobile/Digital Producer, Associated Press, New York; Ms. Sonia Narang, Multimedia Producer, BBC, Massachusetts; Ms. Sue McMillin, News Director, The Gazette, Colorado; Lateef Mungin, Desk Editor, CNN, Atlanta, Georgia; Ms. Chelsea Brooke Sheasley, Asia Editor, The Christian Science Monitor, Massachusetts; Ms. Sonia Helen Smith, Associate Editor, Texas Monthly, Texas; Ms. Sara Hannah Sorcher, National Security Correspondent, National Journal, Washington, DC; Ms. Beth Ellen Willon, Broadcast Journalist, KGO Radio San Francisco California; Conrad Wilson, Freelance Radio Journalist, Marketplace and National Public Radio, Oregon; and James Gene Wright, Deputy Editor for Metropolitan and Business News, Las Vegas Review-Journal, Nevada. - APP