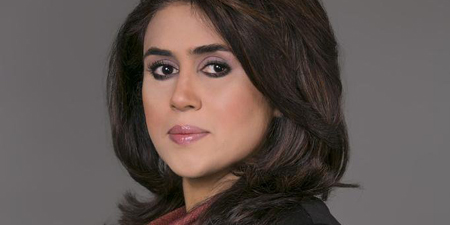 JournalismPakistan.com January 24, 2017


ISLAMABAD – Pakistan Television (PTV) managers have imposed a ban on two of its female anchors for appearing in talk shows to defame the organization.
Tanzeela Mazhar (pictured) and Yashfeen Jamal had earlier filed a complaint against an employee named Agha Masood Shorish for allegedly sexually harassing them.
A PTV office order issued Monday said: "…two female anchors of PTV News Ms Tanzeela Mazhar and Ms Yashfeen Jamal are banned immediately as anchors as well as participants in PTV News."
The order said both ladies had participated in a prime time show on Express News Television with beepers, "defaming the PTV organization."
PTV said no organization could afford "such insulting and defaming behavior of anchors in spite of their being on the pay roll of PTV."
Meanwhile The Express Tribune reported Tuesday that the two were also punished for taking to the social media.
The paper said on January 20, the PTV management issued a circular stating that 'certain' PTV employees were using social media to comment on matters that were currently being inquired into officially.
"Such comments must be removed or deleted within 24 hours of issuance of the circular, failing which strict disciplinary action will be taken," the paper quoted the circular.
Tribune said both anchors however, did not remove the content from their social media handles and also discussed the issue on Sunday in the Express TV show 'To the Point' with Mansoor Ali Khan.