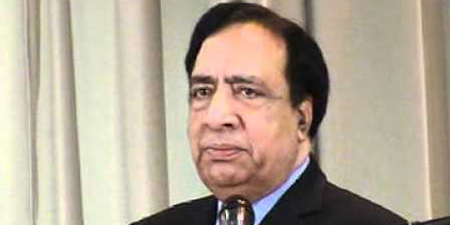 JournalismPakistan.com April 17, 2017


ISLAMABAD - In a hard-hitting column Chairman Pakistan Television, Ataul Haq Qasmi, Monday maintained that unfortunately the number of "stinking TV anchors" is on the rise.
Though the title of the regular column Rozan-e-Dewar Say in Jang is Sheeda Tulli, only two paragraphs are against the head of Pakistan Awami Party Sheikh Rashid Ahmed. The rest of the column is against "dirty and stinking anchors who have nothing else to do but muddy the reputation of clean people."
But Qasmi did not name any of the TV channels or anchors he is angry with.
"There are three or four private TV channels whose anchors' tongues are vituperative…these dirty people cannot see somebody with clean reputation…whenever they see a clean person they start muddying his reputation to make him like themselves," Qasmi wrote. He said these anchors' income is through dishonest means (haram).
However, he adds that he has stopped these negative channels and anchors since long but still whatever they say is conveyed to him. "These are the people who cannot listen to any good thing about the people of Pakistan. Their only desire is to listen to abuses and character assassination."
He added that he only sees TV channels which are balanced and have topline journalists. "But the anchors I am talking about are full of slanderous talk and show their inner stinking selves on TV screens." He said that the "stinking anchors" have no sense of honor.
Qasmi said he would not have written this column if he had not seen video clips of two anchors who are mainstream journalists. "They cannot be counted among dirty people but in those clips, they have said things without confirming facts."
He regretted that courts are helpless before slanderous content on private TV channels. "According to Mujibur Rehman Shami, there are 5000 pending cases filed by PEMRA. These cases are for violating journalistic norms."
Qasmi wrote that these journalists are only afraid of Pakistan Army and their tongues do not wag against the armed forces.

Only the last two paragraphs of his column are against Sheikh Rashid as he calls him "peon, bhand, chilumbardar," and of course Sheeda Tulli.