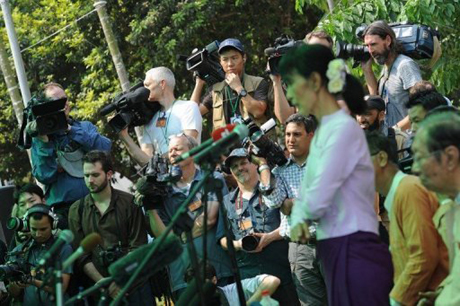 JournalismPakistan.com August 20, 2012
Myanmar has abolished censorship of its media, the information ministry announced on Monday, in the latest in a series of sweeping reforms by the country's nominally civilian government.
"Censorship for all local publications is lifted from August 20, 2012," according to a statement on the ministry's website.
Pre-publication censorship - applied in the past to everything from newspapers to song lyrics and even fairy tales - was one of the hallmarks of military rule which ended last year.
Media reforms have already brought a lighter touch from the once ubiquitous censors, with less controversial publications freed from scrutiny last year.
Political and religious journals were the last to be allowed to go to press without pre-approval from the censors starting from Monday.
Since taking office last year, President Thein Sein, a former general, has overseen dramatic changes such as the release of hundreds of political prisoners and the election of opposition leader Aung San Suu Kyi to parliament. - AFP