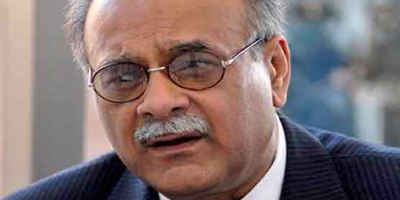 JournalismPakistan.com April 25, 2014
ISLAMABAD: Calling for restrain, Najam Sethi on Friday said no media group should get big enough to bring state institutions and elected bodies under its whimsical heel and at the same time the military and ISI, too, need to accept the new facts of democratic life in Pakistan.
Sethi, an analyst and head of Pakistan Cricket Board, writing for weekly The Friday Times, maintained: "The Geo/Jang Group should review its aggressive policies to define and change the rules of the political game in Pakistan as a king-maker and reign itself in."
The editorial – media and militarism – tried to convey the dangers of dragging this episode – both for the media and the military.
For the military and ISI, his message was: live and let live. "The new civilian dispensation, new press, new judiciary and new civil society want them to be accountable like everyone else. The military is the military and not 'the establishment' and the ISI is the ISI and not a 'sensitive agency'. Notions of praetorian patriotism and civilian treason are no longer acceptable or tenable."
Sethi asked the courts to "rise to the occasion and draw the required red lines for all protagonists. Civil and criminal libel cases must be swiftly disposed off as deterrents to transgressors," stressing that all relationships - media against media, government/state against media and civil society against media - are in urgent need of repair, redress and balance.
Host of popular Geo talk show Apas ki Baat, Sethi said both Geo and ISI reacted sharply. "By targeting the head of the ISI relentlessly for over eight hours on that fateful day, Geo "personalized" the issue and provoked the agency to react aggressively by branding it a 'traitor against national security', and leaning on cable operators and PEMRA to shut it down. Like Geo's 'overkill' against the ISI, however, the latter's 'overkill' against Geo is likely to attract more criticism than support from civil society and the courts.
He also harshly criticized other TV channels, saying they opposed Geo purely for commercial reasons. "Several media houses have banded with the ISI against Geo for commercial reasons behind the fig leaf of 'patriotism'. Geo controls over 50% of all eyeballs in Pakistan and the rest have a vested interest in knocking it down. Sethi regretted that many journalists on both sides have sold their souls to their respective media establishments or been silenced because of fear of the ISI.
Saying that this is not the first time Jang Group has run afoul of military, he added that the Geo owners fearing for their lives have "fled to safety in Dubai".