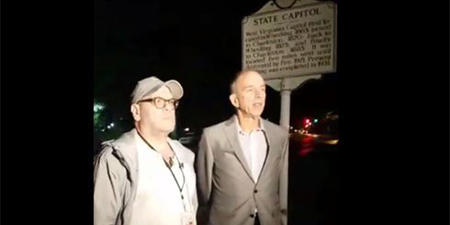 JournalismPakistan.com May 10, 2017


NEW YORK - The arrest of a journalist in the US state of West Virginia while asking a question of Secretary of Health and Human Services Tom Price Tuesday is an affront to press freedom, the Committee to Protect Journalists said Wednesday.
Police arrested Dan Heyman, a broadcast journalist with Public News Service West Virginia, and charged him with "willful disruption of government processes" after he shouted questions at Price and Kellyanne Conway, an adviser to U.S. President Donald Trump, at the West Virginia State Capitol in Charleston, according to media reports and police documents. The two officials were leaving a private meeting on opioid addiction when Heyman repeatedly questioned them about a draft law on health care.
"The arrest of a journalist trying to ask a question in the public interest is a clear affront to press freedom," said Alexandra Ellerbeck, senior US and Americas researcher at the Committee to Protect Journalists. "West Virginia authorities should drop all charges against Dan Heyman immediately and respect journalists' right to question government officials."
Heyman was released on bail, pending trial, from the South Central Regional Jail late Tuesday evening, according to the American Civil Liberties Union of West Virginia. In a news conference after his release, Heyman said that he held his phone out to Price and asked him repeatedly whether domestic violence would be treated as a pre-existing condition that health insurance companies would no longer need to cover under draft legislation sponsored by the Republican Party that passed the U.S. House of Representatives on May 4.
"At some point they decided I was too persistent in trying to ask this question and do my job, so they arrested me," Heyman said in the news conference.
A video of the arrest shows Heyman being led away by officers with the Division of Protective Services Capitol Police. The criminal complaint filed following his arrest, which CPJ has reviewed, alleges that Heyman "was aggressively breaching the secret service agents" and "causing a disturbance by yelling questions."
"I've never had a client arrested for talking too loud," Heyman's lawyer, Tim DePiero, said at the news conference.
"He wasn't arrested for asking a question. It is the actions of this individual that set him apart from the other reporters trying to cover the event," Lawrence Messina, a spokesman for the West Virginia Department of Military Affairs and Public Safety, which oversees the West Virginia Capitol Police, told CPJ. – Committee to Protect Journalists/ Image: Dan Heyman (left), addresses the press after his release