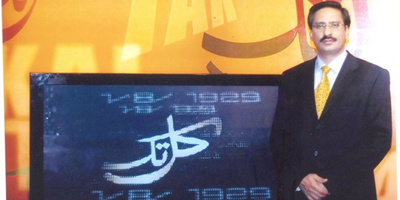 JournalismPakistan.com July 11, 2012
ISLAMABAD: Columnist and television anchor Javed Chaudhry is reported to have filed defamation suit against the Chairperson of Such TV, Iftikhar Naqvi, Chief Operating Officer of the program 'Sub ki Baat', and hosts Ghulam Akbar and Arsalan Khalid.

According to an email circulated Wednesday evening, Javed sent them the legal notice through his lawyer, Hafiz Arfat Ahmed Chaudhry while a copy has been forwarded to the chairman of the Pakistan Electronic Media Regulatory Authority (PEMRA).

According to Javed, Ghulam Akbar and Arsalan Khalid tried to defame him by leveling false allegations against him. The email says Javed wants either a solid proof of all the allegations or that they be refuted and an apology made within the next 15 days.

In the program, Ghulam Akbar accused Javed of being a ghost writer of property tycoon Malik Riaz and writing columns for him for which he got paid Rs 3 lac per piece.

Javed was also accused of having a house in Bahria Town and that he wrote a book for Malik Riaz in return for Rs 10 million.