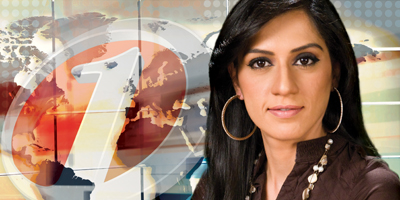 JournalismPakistan.com July 02, 2013
ISLAMABAD: Nadia Naqi, current affairs anchor at NewsOne Television, has won the ICFJ Vaccine Reporting Contest, for her half-hour program called "Problems of Eradicating Polio from Pakistan."

The contest, launched by the International Center for Journalists (ICFJ) together with the African Health Journalists Association and the Arab Media Forum, aims to stimulate coverage in Africa, Pakistan and the Gulf states on this key issue.

The New Venture Fund sponsored the initiative with a grant from the Bill & Melinda Gates Foundation. Winners earn a two-week study tour to the United States to explore in greater depth a variety of health issues, according to an ICFJ accouncement.

Nadia explores why Pakistan has failed to eliminate the disease, investigating negative perceptions by the public of the polio vaccination, security risks facing health workers giving vaccinations, and parental ignorance.

With a wide range of interviews, she identifies the hurdles and suggests ways to overcome them. The piece is particularly poignant because it starts and ends with moving stories of polio victims.

Other journalists winning the award are from Nigeria (Vivienne Irikefe), Ivory Coast (Suy Kahofi Jischvi), and UAE (Joanne Bladd).

In well-documented multimedia and broadcast reports, most spotlighted the challenges—and victories—in eliminating polio.

"The winners produced coverage that serves as lessons to all in how to conquer devastating yet preventable diseases such as polio," said ICFJ President Joyce Barnathan. "They have done a major service to the public and health officials by surfacing hurdles and successes."

Fourteen prominent international journalists chose the winners from more than 200 submissions. Among other criteria, the judges looked for in-depth reports that effectively used strong images and graphics, citizen voices and open data.
The winners will meet leading global health experts during their US study tour. Each will receive a $500 cash prize. Four second-place finalists also won $500 awards.

They are: Melaku Berhanu Tesfay (Ethiopia), Florence Naluyimba (Uganda), Arsla Jawaid (South Asia Magazine, Pakistan), and Hossam Mohammed Hagrass, Saudi Arabia).

A representative from the winning news organizations will be invited to attend ICFJ's Awards Dinner on Nov. 7 in Washington, D.C. The annual event honors the achievements of colleagues whose outstanding news reports or media innovations have made a huge impact.