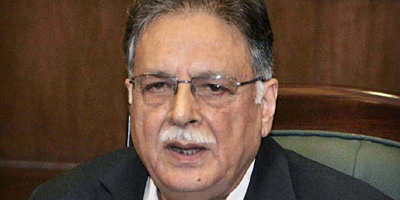 JournalismPakistan.com May 29, 2014
ISLAMABAD: Minister for Information Pervaiz Rashid (pictured) on Thursday opposed the closure of any media outlet, saying this was not the solution to the crisis electronic media was facing these days.
Addressing a pre-budget seminar arranged by the Free and Fair Election Network (FAFEN) and Parliamentary Reporters Association, the minister narrated how he stopped PEMRA from shutting down ARY Television. He said that when a Supreme Court bench expressed displeasure over ARY's reporting, PEMRA Chairman Chaudhry Rashid reached office around 11:30pm and started dictating orders for closing down the channel.
In pure Punjabi, the minister continued: "The chairman who is never in the office at 11:30am was there late in the night. I called Chaudhry Sb and asked what's happening. He gleefully told he had got the order typed. I told him to relax, go home, and we will inform the court in the morning about our stance."
Though the pre-budget seminar was to explain the details of budget process, National Assembly rules and procedures and how to cover it, the minister, apart from highlighting government policies harshly criticized Pakistan Tehreek-e-Insaf and its chief Imran Khan, and tried to present him as an incompetent politician.
Noticeably The News quickly published the minister's talk on its website in which he predicted PTI defeat in the coming general elections in 2019.
Remembering his younger days, the minister tried to prove that when he along with others was struggling for media freedom, PTI chief was busy playing cricket.
Referring to Geo TV controversy, the minister repeatedly talked about the practice of apology, insisting it should be accepted. "Nations have made mistakes and tendered apologies, which have been accepted."