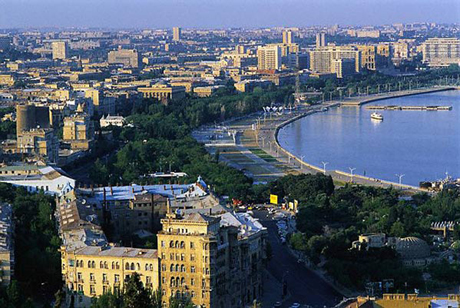 JournalismPakistan.com August 28, 2012
NEW YORK: The Committee to Protect Journalists (CPJ) has condemned a prison sentence imposed Thursday against Faramaz Novruzoglu, a freelance journalist who has faced years of persecution in reprisal for his coverage of alleged government corruption.


CPJ has also called for an appeals court to reverse last week's unjust ruling and release Novruzoglu on appeal.


The Nizami District Court in Baku sentenced Novruzoglu, also known as Faramaz Allahverdiyev, to four and a half years in jail on charges of illegal border crossing and inciting mass disorder, according to the independent regional news website Kavkazsky Uzel. Novruzoglu denied the charges, and said they had been fabricated in retaliation for his investigative stories on government corruption published in the independent newspaper Milletim and on social networking websites.


Authorities imprisoned Novruzoglu in April on charges that he called for mass disobedience on a Facebook page under the name of Elchin Ilgaroglu, news reports said. Authorities also accused him of illegally crossing the border into Turkey in November 2010, Kavkazsky Uzel reported.

Novruzoglu denied the charges in court, Kavkazsky Uzel reported. He said he was not the owner of the Facebook page and that investigators found no evidence despite seizing his personal computer. He also presented the court with his passport, which showed other travel during the time that he was accused of having crossed the border with Turkey.


Emin Huseynov, head of the Baku-based Institute for Reporters' Freedom and Safety, told CPJ that investigators failed to present any credible evidence against the journalist and that the state-appointed defense attorney did not effectively defend him in court.
According to Huseynov and Kavkazsky Uzel, Novruzoglu and his colleagues said they believed that he was targeted in retaliation for critical articles he wrote on high-level corruption in the export of Azerbaijani crude oil and the import of Russian timber.


This is not the first time Novruzoglu has been prosecuted and imprisoned for his work. He was previously imprisoned in 2007 and 2009 in retaliation for his journalism, CPJ research shows.


Huseynov said his group will hire an independent lawyer for Novruzoglu, and appeal his verdict within a month.


"Authorities have persecuted Faramaz Novruzoglu for years because of his critical reporting," said Nina Ognianova, CPJ's Europe and Central Asia program coordinator. "Novruzoglu should be freed immediately pending appeal, his conviction should be thrown out, and the official retaliation against him should stop once and for all."


Azerbaijan maintains a revolving-door policy for imprisoning independent and pro-opposition journalists, CPJ research shows. At least eight independent reporters are currently behind bars for their work, locked up in Azerbaijan's prisons and pretrial detention facilities. - CPJ