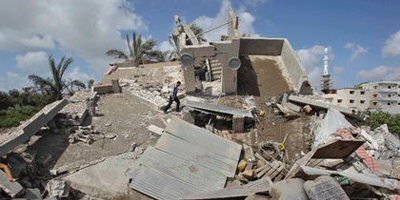 JournalismPakistan.com July 18, 2014
The International Federation of Journalists (IFJ) has demanded that Israeli forces respect the rights of journalists in Gaza and has issued a renewed appeal for journalists in the region to take all necessary safety precautions.

The call comes as the Israeli army intensifies its invasion of the Gaza region, with the latest reports saying that Israel is prepared to significantly widen its ground offensive. Last night, Thursday, 17 July, international journalists joined Gaza residents in a frightening evacuation after the Israeli military warned that its offensive was poised to enter the area.

According to IFJ affiliate, the Palestinian Journalists' Syndicate (PJS), this morning Israeli forces also carried out targeted air strikes on Al Jawhara Media Tower located in the centre of Gaza City, injuring Mohammed Shibat, a photographer with Al Watanya News Agency.

The PJS says the attack caused severe damage to the Al Watanya offices and the offices of several other media outlets, including the PJS Gaza offices which are in the same tower. Over 50 journalists are said to have been present in the tower at the time of the strikes and media equipment was also badly damaged.

"While international journalists based in Gaza have now been evacuated to a safer location, the world increasingly relies on Palestinian journalists to document this war, risking their lives at all times," said IFJ President Jim Boumelha. "We send our support to our colleagues in Palestine and we urge journalists to remain vigilant and to take every practical step to stay safe and protect their lives."

The PJS has issued a detailed list of attacks Israeli forces have carried out against media workers and outlets in recent weeks.

The union has denounced the Israeli violations, stating that Israeli forces have deliberately targeted media workers and media outlets. The union has also paid tribute to Palestinian and international journalists who are working tirelessly to ensure the truth is told.

In its latest report, the PJS says the total number of violations is 13, including one media worker killed, five journalists injured and the bombing of one car, two houses and five media offices.
Backing the stance of the PJS, the IFJ has also issued an appeal for the invading Israeli army to respect press freedom. "We call on the Israeli military to uphold the rights and freedoms of Palestinian journalists covering events," continued Boumelha. "Journalists must be allowed to do their jobs and must not be harmed."