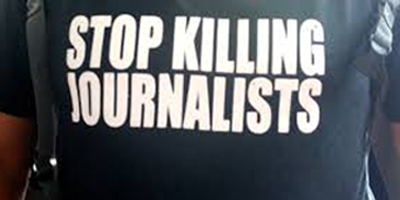 JournalismPakistan.com August 20, 2013
GENEVA: Forty journalists and back-up staff were killed on the job in the first half of this year and the circumstances of another 27 media deaths have yet to be clarified, a media safety group reported on Monday.

Killings often occurred because of the victims' work in uncovering crime or corruption, while the highest single country total was eight - in Syria where journalists have been targeted by both government and rebel forces in the civil war there.

Syria was also the deadliest country for journalists in 2012, when 70 were killed in the first half of the year, said the report by the International News Safety Institute (INSI).

Hannah Storm, director of London-based INSI, said in its biannual "Killing the Messengers" survey that none of the suspects in killings this year had been apprehended.

Six journalists and support staff were killed in India in the first six months of 2013. In one incident, a reporter was found with his throat slit and local newspapers said the culprits could have been police or criminals, according to INSI - which runs programs training journalists in safety measures.

In Brazil, a radio journalist and a crime columnist who reported on corruption were gunned down by attackers on a motorcycle and a month later a photographer who worked with one of them met the same fate.

Journalists in Pakistan, where five were killed in the first part of the year, are at constant risk of being caught in violence between security forces and Islamic militants or between warring political factions, according to INSI.

Somali journalists faced similar problems, often targeted by militants from the al Qaeda-affiliated al-Shabaab movement in the Horn of Africa country. - Reuters