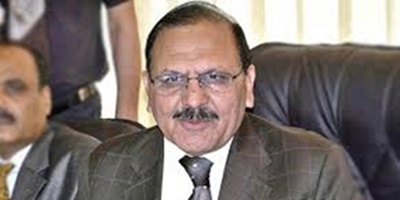 JournalismPakistan.com August 20, 2015
ISLAMABAD: Former chairman of Pakistan Electronic Media Regulatory Authority (PEMRA), Chaudhry Rashid Ahmed (pictured), challenged Monday (August 17) proceedings initiated against him by the Federal Investigation Agency before the Islamabad High Court.

In his petition, he said the government has lodged a case to harass him as he had previously challenged his termination. Rashid has challenged the registration of an FIR against him by the FIA in connection with release of payment to an advertising agency which the investigation agency claimed was illegal.

In the petition, Rashid contended that the case was registered against him while he was working as Principal Information Officer in the information ministry in BPS-21.

The petition further stated, "Under the rules of FIA, no inquiry can be conducted against an officer in BPS-21 nor can he be arrested without prior permission of the competent authority."

The petition claimed that the FIA did not obtain any such permission from the authorities concerned before registering a case against the petitioner.

It further contended that under the FIA's rules the petitioner has the right to give written explanation to any allegation made against him within a fortnight, but no explanation was sought from him.

The petition said that the FIR was registered to pressure him to withdraw the case he has filed in the IHC against his sacking.

The petitioner made Director General FIA, the investigation officer of the FIA and secretary ministry of information and broadcasting as respondents.
Rashid, former information secretary, was appointed as chairman PEMRA by the Pakistan People's Party government on January 26, 2013.

On December 15, 2013, the Pakistan Muslim League-Nawaz government terminated his contract. Islamabad High Court, however, restored Rashid on December 26, 2013 but allowed the government to investigate if there was any illegality with regard to Rashid's appointment.

The government in April 2014 again sacked Rashid but he resumed office on May 25 this year in pursuance of the IHC's order of the same date. On June 10, the court temporarily suspended his restoration after the government produced new facts before the court.