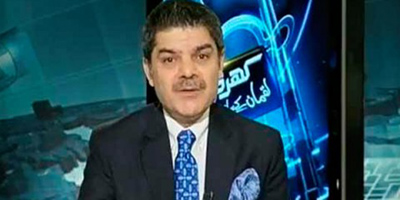 JournalismPakistan.com July 16, 2012 Z B Saigol

ISLAMABAD: It looks more like a horror movie trailer, but then that's exactly what it is. With echoing vocals, and dramatic surreal footage, ARY TV's new signing Mubashar Luqman declares that nobody and nothing can stifle his voice. "I'm back," he proclaims.

"I'm not the heir of some feudal chief, nor the scion of some titled lord, nor am I the puppet of some influential financier… I always wanted to do something. People have mocked me…. But I stand firm. For the fulfillment of dreams it is necessary one's thoughts be free. My struggle will continue… whether I'm stopped, halted or my voice is stifled. I'm not going to admit defeat. I'm the voice of the common man. I have always sown the seeds of hope. I am Mubashar Luqman." http://www.youtube.com/watch?v=N7oFVHkZ_oI&feature=youtu.be

Quite a mouthful from the man following his boring, self-pitying attempt to clear his name of double standards in the aftermath of the disastrous 'leaked' interview with Bahria Town tycoon Malik Riaz on Dunya TV from where he was sacked unceremoniously.

The poorly conceived promo is what it is – a desperate attempt at redemption from a desperate man.

Strangely enough, ARY has chosen to highlight Mubashar Luqman rather than the program he might be doing for them. It's a strange strategy, but then stranger things have been known to happen in the perplexing world of Pakistan media.

There is quite a lot of chatter online regarding the name of the program Mubashar will be doing, but let's see when we get there. One thing though is certain; expect more of the same old same old with Mubashar harping on about how he was wronged and just what an honest son of the soil he is.

One wonders though about the acumen of the ARY management. Just what were they thinking about?