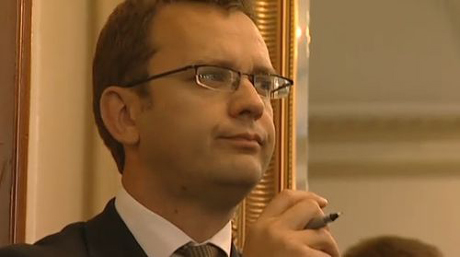 JournalismPakistan.com November 20, 2012
LONDON: David Cameron's former media chief Andy Coulson will be charged with conspiring to pay officials for private information on the royal family during his time as a tabloid editor, prosecutors said on Tuesday.

The prosecutor's decision is a blow to the reputation of the British prime minister who has been forced to defend his hiring of Coulson since a phone-hacking scandal exploded last year at the Rupert Murdoch-owned News of the World tabloid.

Critics say that Eton-educated Cameron - who meets Queen Elizabeth once a week - ignored warnings about Coulson's reputation to appoint him to shape his media strategy to connect better with ordinary voters.

Since resigning in 2011, Coulson has been charged with conspiracy to hack into phone messages and perjury, possible first steps to what would be politically charged court cases. He said in a statement he would fight the latest charges in court.

Another Cameron friend, the former boss of Murdoch's British newspaper business, Rebekah Brooks, was also told on Tuesday that she would be charged with conspiring to authorize payments of around 100,000 pounds ($160,100) to a member of the Ministry of Defence to generate stories.

Police said later in the day that Brooks, described as 44-years-old and unemployed, had attended a south London police station and been charged. She will appear at Westminster Magistrates Court on November 29. - Reuters