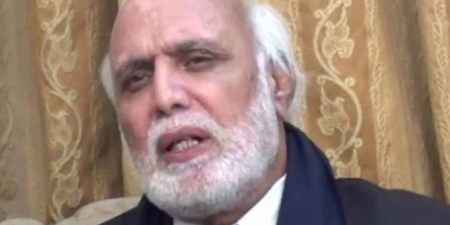 JournalismPakistan.com November 02, 2016 Daud Malik



ISLAMABAD - In a column on bbcurdu.com, novelist and journalist Muhammad Hanif has criticized columnist Haroon Rashid for alleging that Cyril Almeida "has contacts in India."
Hanif said the columnist heavily quotes from the sacred texts but seldom lives by them.
Referring to Rashid's columns in which he often quotes the advice not to convey a rumor further without researching/confirming it, Hanif says the rumor of Cyril's alleged "Indian contacts" was first made by the columnist.
Dawn journalist Cyril Almeida's October 6 story - Act against militants or face international isolation, civilians tell military - led to tensions in civilian-military relations. He was put on the ECL before being taken off, that set the tongues of conspiracy theorists wagging.
"Would it not have been enough to question the story, even the intent (of Cyril)? Don't you know what it means for a Pakistani journalist to be accused of having contacts in India," Hanif asked in his column Toyota Corolla mein sajday. He pointedly asked: "What do saints say about those who make false allegations?" Then he lamented "what should the reader do when the pen giving nuggets of wisdom starts making slanderous accusations."
Hanif, author of the book 'A Case of Exploding Mangoes' starts the column on a lighter but sarcastic note where he spots his "journalistic hero" Haroon Rashid in a white Toyota Corolla on a busy Karachi crossing, murmuring to himself.
However, in a while Hanif realizes the columnist is offering prayers, saying he was further impressed and wanted to tell everybody about the "pious" journalist. He also takes a jibe at Rashid's closeness to late Gen Akhtar Abdul Rehman, former army chief Pervez Kiyani and chairman of Pakistan Tehreek-e-Insaf Imran Khan.