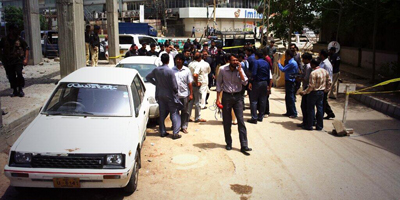 JournalismPakistan.com August 17, 2013
NEW YORK: The Committee to Protect Journalists (CPJ) has urged the Pakistani authorities to immediately investigate an attack on the offices of Karachi's Express Media Group on Friday.
Four unidentified men on motorcycles shot at the media office more than 30 times. The assailants fled after they opened fire at the building. Police arrived at the scene more than 40 minutes after the attack occurred.
"This kind of senseless violence illustrates the everyday dangers faced by journalists in Pakistan," said Bob Dietz, CPJ Asia program coordinator. "Until authorities muster the political will to investigate and prosecute crimes against the press, the cycle of attacks will continue."
Kamal Siddiqi, editor of the group's English-language paper The Express Tribune, told CPJ that no journalists were injured, but a security guard had been wounded in the back and was hospitalized in critical condition. The editor also told CPJ that a woman who works in the media group's marketing section had sought treatment for leg injuries at a local hospital. The victims' names have not been disclosed.
The office houses The Express Tribune, as well as the Urdu-language newspaper Roznama Express and the Express TV news channel, all of which continue operations.
Photo courtesy: Jahanzaib Haque