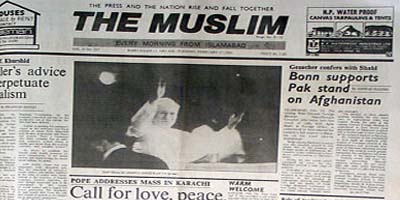 JournalismPakistan.com March 21, 2015
ISLAMABAD: The Chairman Implementation Tribunal for Newspaper Employees (ITNE) has directed the Capital Development Authority (CDA) to auction a plot allotted to an English daily newspaper (defunct) to compensate the affected staff.
Retired Justice Rauf Ahmed Sheikh, chairman of the said tribunal warned CDA that "action in accordance with law would be initiated against the delinquent officers if the court order is not complied with.
The tribunal on January 1, 2007 deciding identical petitions of the English daily The Muslim ordered the CDA to auction the plot allotted to the newspaper for construction of building, and the amount to be generated from the said action be disbursed among the staff of the said daily.
Initially, the stance of the CDA was that being the purposeful allotment, the plot could neither be auctioned nor sold out. However, the court after due deliberations directed the CDA that in order to clear outstanding dues of the staff, payable by the newspaper owners, the said plot may be auctioned.
On February 18, when Justice Sheikh resumed hearing in the case, the CDA administrative officer informed that the case for implementation of the order of this tribunal was being placed before the board of the CDA.
The chairman of the tribunal observed that the CDA is under obligation to obey the orders of tribunals/courts established under the law. He gave last and final opportunity to the director general and the director of the CDA's estate management and warned them of dire consequences if the order is not complied with.
(You may also like: Nothing quite like The Muslim)