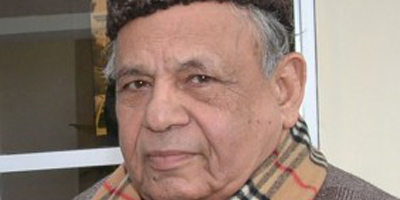 JournalismPakistan.com February 21, 2014
ISLAMABAD: Syed Fasieh Iqbal, the founder and chief editor of Balochistan Times and Daily Zamana passed away in Karachi on Thursday following a brief illness.
Sentaor (R) Fasieh was also a former president of the All Pakistan Newspapers Society (APNS) and the Council of Pakistan Newspaper Editors (CPNE).
He was to be buried in Quetta on Saturday (February 22).
Malik Siraj Akbar, Editor-in-Chief of thebalochhal.com paid tributes to Fasieh. In an obituary titled: 'R.I.P. Balochistan's Rupert Murdoch', Siraj wrote: "He was one such man in Balochistan whose success story from a young cycle-riding newspaper seller boy of Quetta to the ownership of the province's most profitable newspapers inspired people to believe that hard work paid off and newspapers could still bring profits.
"Like most successful people, Fasieh also had his share of critics. He had few enemies but there were more people who envied him. If journalism is about social contacts then he was among the most connected professionals from Balochistan. He was one of Balochistan's most widely recognized figures across Pakistan."
Fasieh launched Zamana from Quetta in 1954 as a weekly which became a daily newspaper in 1958. In 1974, he started The Balochistan Times, which became the most circulated English newspaper of the province.
Photo courtesy: thebalochhal.com